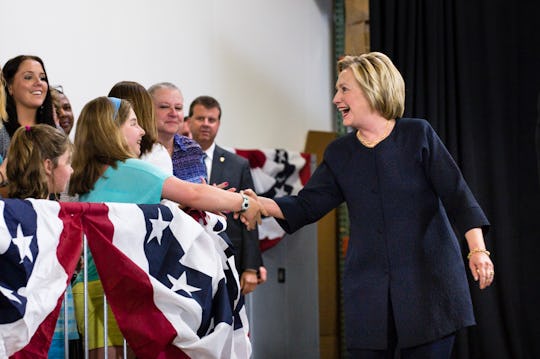 Angelo Merendino/Getty Images News/Getty Images
Poll Says Parents With Daughters Are More Likely To Vote For Hillary Clinton
It's a generally accepted fact that, while polls do a decent job of gauging public opinion, they don't always paint a completely accurate picture of what will happen come Election Day. From varying sample populations to human errors and more, poll outcomes can often be contradictory and erratic. However, the results of a recent poll conducted by The Washington Post and ABC News should probably be taken as gospel, and here's why: The poll says parents with daughters are more likely to vote for Hillary Clinton in next month's presidential election. While no one should be surprised at this revelation, given Donald Trump's recent and historical comments about women, it's important to take note of the poll's significance. The Washington Post polling manager Scott Clement wrote in an article announcing the poll results:
The gender of voters' children is rarely tracked by pollsters as an indicator of how people vote. But a slew of Republicans citing respect for daughters in criticizing Republican presidential nominee Donald Trump's hot-mic comments raised the question of what difference, if any, having a daughter makes in the way people view this issue or the campaign overall.
Though the poll showed that parents with daughters were no more likely to support Clinton against Trump than all likely voters, parents who have only daughters and no sons were found to overwhelmingly favor the Democratic nominee (58 percent to Trump's 37 percent).
Though the Post-ABC poll found little evidence that Trump's comments about women are to blame, pointing to "long-term partisan loyalty" as the more likely rationale, his well-documented and controversial remarks — both before and during his presidential run — stand in direct contrast with his claims that he supports and respects women. Let's review some of Trump's more famous commentary about the opposite sex, shall we?
On Rosie O'Donnell in 2006, according to Entertainment Tonight:
Rosie O'Donnell is disgusting, both inside and out. If you take a look at her, she's a slob. How does she even get on television? If I were running The View, I'd fire Rosie. I'd look her right in that fat, ugly face of hers and say, 'Rosie, you're fired.'
On journalist Megyn Kelly after she hosted a Republican primary debate in 2015, according to The Washington Post:
You could see there was blood coming out of her eyes, blood coming out of her wherever.
On former Republican primary rival Carly Fiorina in 2015, according to USA Today:
Look at that face. Would anyone vote for that? Can you imagine that, the face of our next president? I mean, she's a woman, and I'm not supposed to say bad things, but really, folks, come on. Are we serious?
And let's not forget, on the "privileges" of his celebrity status during a taped conversation with Billy Bush from Access Hollywood in 2005, according to The New York Times:
You know, I'm automatically attracted to beautiful — I just start kissing them. It's like a magnet. Just kiss. I don't even wait. And when you're a star, they let you do it. You can do anything ... Grab 'em by the p*ssy. You can do anything.
Though the recent release of the Access Hollywood tape led to some Republicans withdrawing support of their party's standard-bearer, others simply dismissed his comments as locker-room talk and continued to pledge their loyalty. As a liberal LGBT woman with a couple of family members who plan to vote for Trump on Nov. 8, I've struggled to understand why anyone, let alone parents with daughters, would put their country's future in the hands of a bigoted reality star — and it looks like I'm not alone.
In fact, I've already made a mental list of which friends of mine have daughters at home, and it's not a small number. I'm definitely looking forward to Election Day.