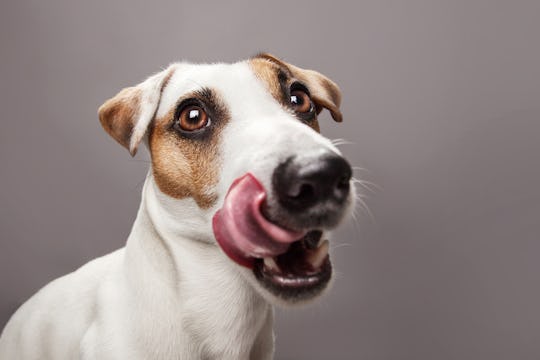 Tatyana Gladskih/Fotolia
Popcorn & 7 Other Foods That Are Surprisingly Dangerous To Dogs
If you've ever had a dog, you know that most of them will eat just about anything: garbage, rocks, shoes, entire articles of clothing (though they'll inexplicably turn their noses up at actual dog food). Unfortunately, many of the things dogs are willing to put in their mouths aren't good for them — and I'm not just talking about your favorite underwear, either. Quite a few actual food items can be hazardous for your canine to consume, and some of the most dangerous foods for dogs might take you by surprise.
Even people who've never cared for a dog in their lives would probably think twice before letting one eat something like a flaming hot pepper. But certain seemingly benign snacks (including stuff safe enough for the average toddler) could make your pet seriously sick. And the more he eats of the offending food, the worse off he could be.
"If your dog eats a chocolate chip cookie or a piece of moldy bread, chances are he will be perfectly fine (although he may need to go outside to vomit)," explained Petfinder.
However, if your dog is anything like my last dog, a more realistic scenario would involve eating an entire batch or chocolate chip cookies or loaf of moldy bread. (Dogs are smart, but not always that smart.) In that case, Petfinder advised, you should get your dog to the vet right away.
To make sure your dog stays healthy (and save yourself who knows how much money in bills from the vet), it's best to keep all of the following foods out of his reach at all times.