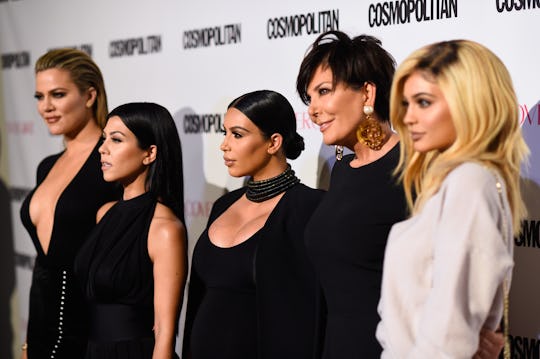 Frazer Harrison/Getty Images Entertainment/Getty Images
Here Are All The Pregnancy "Clues" From The Kardashian Christmas Cards So Far
Khloé Kardashian made a surprise appearance on social media on Wednesday. She was featured on Day 13 of the Kardashian family Christmas card. Now, if fans thought this would be the big reveal, the moment when Khloé finally either confirms or denies her reported pregnancy, they were sadly mistaken. While fans wait for definitive news on either Kardashian's pregnancy, or that of her youngest sister Kylie Jenner, let's have a look for pregnancy "clues" from the Kardashian Christmas cards so far.
As pretty much everyone on the planet is aware, both Khloé Kardashian and Kylie Jenner are reportedly pregnant. The news of both pregnancies dropped at the end of September, but neither woman has come forward to either confirm or deny the news. Kardashian is reportedly expecting a son with boyfriend, NBA star Tristan Thompson, around the end of February. While Jenner is reportedly expecting a daughter with boyfriend, rapper Travis Scott, in January or February. Ever since sister Kim Kardashian West (who is expecting her third child via surrogate in January, according to The Sun) started sharing the 25 days of Kardashian Christmas cards at the beginning of the month, fans have been waiting for a glimpse of Khloé and Kylie. After 13 days, at least one of them made an appearance.
No Kylie
As of the 13th day of Kardashian Christmas cards, there has not been one sighting of Kylie Jenner. Now, fans will remember that the makeup mogul was seen showing up for the Christmas photo shoot back in November, so it's not like she decided to ditch the event or anything. Yet she remains the only sibling (save Rob Kardashian, who doesn't have a history of showing up for these type of family events anyway, even though his daughter Dream was present) not to be featured on a Christmas card. Grandma M.J. made an appearance on the 13th day, Kendall Jenner, all of the Kardashian grandkids... I mean, even Kanye managed to get his leg in there. Could this mean she's still hiding her baby bump?
Off In The Distance
OK, it's true. Khloé Kardashian did not look pregnant in the Kardashian Christmas card. But here's the thing; the photo shoot took place well over a month ago. Plus, she's way off in the distance, hiding her face behind her hair as she cuddles her niece Dream. And the picture wasn't taken in profile; she is facing forward and not really posing, which is very un-Kardashian-like. After years of working hard to get fit, I feel like that fuzzy background shot would not be a picture she would normally approve. Unless she was trying to throw fans off the pregnancy trail.
Momager At Work
If Khloé and Kylie are, indeed, pregnant, there is obviously no way Kris Jenner is going to drop the ball on the pregnancy announcement. The most famous momager in the world knows a thing or two about marketing, and a source close to the family told Hollywood Life that she is planning to use the family Christmas card as a pregnancy announcement:
The Kardashian Christmas card is something that is very important for Kris Jenner. Kris wants to take everyone's excitement and use this year's card to be the reveal of all the pregnancies in the family.
Good To The Last Day
Let's get real; the Kardashian family Christmas card has never been more hotly anticipated as it's been in 2017. Which means the media-savvy family is going to keep fans waiting until the very last day; my prediction is Christmas Eve.
After all, why would Kylie be missing completely and Khloé be in the far off background otherwise?
Stay tuned, it's totally coming.
Check out Romper's new video series, Romper's Doula Diaries:
Watch full episodes of Romper's Doula Diaries on Facebook Watch.