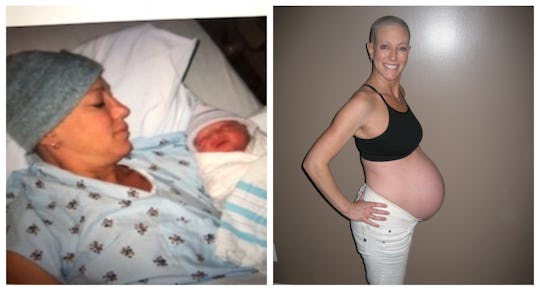 Photo courtesy of Stephanie Hosford
Undergoing Chemo While Pregnancy Is In The Picture — This Fearless Mom Did It
"I couldn't eat lunch meat or take an aspirin, but I sat as nurses in Haz-mat suits put chemicals into my veins." The baby inside of Stephanie Hosford was completely dependent on her for everything that it needed, and yet she was voluntarily loading her body with toxins. If she wanted this child, this was her only choice' Hosford had been diagnosed with breast cancer while she was pregnant, an experience she details in her memoir, Bald, Fat, & Crazy: How I Beat Cancer While Pregnant With One Daughter And Adopting Another.
In the fall of 2007, Hosford was deep into the international adoption process. She and her husband had experienced secondary infertility after the birth of their kindergartener Ethan, and they had dove into the China adoption program to add to their family. "I was absolutely obsessed, China doesn't tell you anything in the wait," Hosford tells Romper by phone. "We had our dossier filed, and were just waiting. I kept checking the website to see if they had matched us with our child."
Then everything slammed to a screeching halt when a lump was discovered in Hosford's breast. Mammograms, biopsies, and diagnostics ensued. "Everything hit the fan," she recalls. In the midst of waiting to find out what exactly the mass in her breast was, the Chinese adoption program finally updated the website. There it was: a picture of a 1-year-old girl bundled completely up in a white bunting, with just her little face peeking out. "And I just said that's it, that my daughter."
Shortly after being matched with their daughter, confirmation came. Stage one, triple-negative breast cancer. It was Friday September 21, 2007. Hosford will not ever forget that date. More aggressive than other types of breast cancer, and harder to treat, this news hit Hosford and her husband hard. With her stress level so high, she was not surprised to find her period late. When her breasts were sore, she wondered if that was the tumor growing inside of her. It was not until three days after her cancer diagnosis, however, that her husband convinced her to take a pregnancy test. That Monday, she found out she was pregnant.
Breast cancer. One child waiting overseas. Another growing inside of her. Everything felt like it was colliding at once. "I was completely thrown off, I felt like I couldn't be happy, what did it all mean, why now? The timing, what is happening?"
Their dossier, or official documents to adopt from China, had already been filed. While there are strict health requirements to adopt overseas, the couple had already been approved. "No one asked us, so we didn't say anything." They remained matched with their daughter, moving towards bringing her home. The pregnancy, though, was seen as problematic. Hosford went to consultations with three doctors, all of whom advised her to terminate the pregnancy. While heartbreaking to Hosford and her husband, she felt resigned to what she felt was the only option to save her own life.
Her husband, though, continued to do research. He presented Hosford with one more place, City of Hope in Los Angeles, Calif. It kept popping up in his investigation; people kept talking about it. Resigned to their path, Hosford agreed to get one more opinion to appease her husband.
That is when Hosford met Dr. Benjamin Paz. "Right I could tell that he was different. He had a different sort of approach. He confirmed it was triple-negative breast cancer, and quite virulent. I didn't talk about the pregnancy through the first half of the appointment." She assumed he would have the same opinion as the previous specialists. She finally asked the question that she had been dreading. What would be the best time to terminate the pregnancy and begin treatment?
His response? "Well, you don't have to do that."
Hosford was stunned. No one else had presented this option to her. But Dr. Paz' approach was different. He said that they had done this before, successfully. That with her stage one cancer clear of her lymph nodes, and with the type of drugs that they would be using, he felt confident that she could continue the pregnancy if she wanted.
The nurses wore protective gear so as not to touch the medicine, but the baby was perfectly fine.
"Their approach was different as far as what do you want, how do you see your life beyond this very difficult year? They just have a holistic whole-person approach — my future and what I wanted my life to look like. No one else had asked me that. He not only has the expertise, he has that sort of beautiful spiritual way about him." Hosford saw her life with her two babies, and chose to undergo treatment at City of Hope.
Beginning in the second trimester, Hosford underwent four rounds of chemotherapy. "It wasn't chemo-lite, it was full strength, and as I gained weight they increased the amount of medicine."
The perinatologist and obstetrician monitored the baby throughout the pregnancy, but the interesting thing was that these very powerful drugs did not pass through the placenta. The nurses wore protective gear so as not to touch the medicine, but the baby was perfectly fine. The safety of chemotherapy during pregnancy has been affirmed by an observational study published in The Lancet, which found lower birth weights but no serious adverse effects. Samantha was born in in May 2008, just two months after Stephanie's husband flew to China to bring home 17-month old Naomi. Samantha was born without any issues, and continues to thrive as an athletic and academically gifted ten-year old today.
After her girls arrived, Stephanie jumped back in to four more rounds of chemo. In addition, she made the choice to have a double mastectomy. With the chemo and her initial lumpectomy, the cancer had a onein-four chance of returning. With the more drastic surgery, that dropped to a 2-percent chance. "I knew what I had to do. It was another recovery, but in my mind, we were on a roll, lets get all the craziness out and then I will heal from this. I will have the support, I was only 38, I was young enough to handle everything fine. I've been cancer free since. They've even used the C word — cured."
Eventually Hosford started writing down her thoughts about her journey in a cathartic manner. She was able, in retrospect, to sprinkle in some humor and craft her writing into a memoir that was published in 2015, Bald, Fat, and Crazy. Her goal was to write the kind of book that she would have wanted to read during her treatment. "Everything was very clinical, or not so happy, or sometimes things get a little too irreverent — its still cancer…"
Over a decade later, and Hosford is happily raising Ethan (17), Naomi (12) and Samantha (10) in southern California. Her advice to any woman facing similar circumstances to her own? "Really know what your options are. Research your treatment options, talk to experts, get to City of Hope or a place like it- a center of excellence, where it is all that they do. If not for all of your treatment, at least a consult. I know not everyone has great insurance, but it is worth at least trying to fight for…"
October is Breast Cancer Awareness Month.