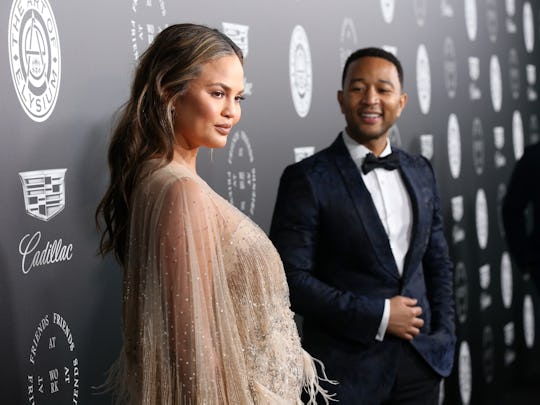 Phillip Faraone/Getty Images Entertainment/Getty Images
Chrissy Teigen's Pregnant "I'm Naked" Snap Is The Most Honest Thing She's Ever Posted
I will be the first to admit that my fashion sense is lacking. I am usually decades behind on modern trends, and even when I'm hip to it, I have no idea what I'm doing. But when I became pregnant, any sense of style I did have went out the window. I just wanted clothes that fit around my pregnant belly, good taste be damned. And whatever non-maternity clothes I did own, I stretched to their breaking point. So when Chrissy Teigen shared her pregnancy-related fashion emergency over the weekend, I couldn't help but think, Same, Chrissy. Same.
So what's the fashion emergency? On Friday, Teigen revealed in a hilarious Snapchat video that her robe no longer closes over her growing baby bump, according to People. That's right: The model, clap-back queen, and soon-to-be mom of two now has to say goodbye to her perfectly lovely robe for the next few months because her belly has grown to big. Honestly, what parent or parent-to-be can't relate to that struggle?
In the Snapchat video, Teigen yelled out, "I'm naked," as she showed a close-up of her pregnant belly. The Lip Sync Battle co-host captioned the funny snap, "My robe won't close," People reported.
To be fair, though, Teigen's fashion problem is less emergency and more, "Great, this kid is going to cause me to go bankrupt over new clothes before they're even out of me." I know my toddler son has a hefty bill to pay when he turns 18 years old. (OK, if I actually calculated what my kid would owe me for birthing and raising him, the amount I spent on maternity clothes wouldn't take up nearly one-quarter of that bill. But it's still annoying that I had to buy a new wardrobe that I only wore for less than a year.)
I have to say, I do love Teigen's presence on social media. The 32-year-old model seems to be an open book, especially when it comes to discussing her pregnancy and motherhood. Her whip-smart candor is refreshing, even if it's over something as simple as a clothing malfunction.
Her honesty on social media also shows a vulnerability that inspires others to be open about their own experiences. Take, for example, her tweet from November, when she asked her followers if it's normal to "get bigger, faster" with your second child. Fans and experts, in turn, offered Teigen support, wisdom, and compassion. (The answer is yes, according to Parents. Your uterus doesn't return to its original size after the first pregnancy, which escalates growth in pregnancies that follow.)
Teigen, who is expecting her second child this year with husband John Legend, has also never shied away from talking about her issues with fertility and trying to conceive. As fans already know, the model and Legend have spoken openly and publicly about their journey with in-vitro fertilization, which they used to conceive soon-to-be 2-year-old daughter Luna Simone, according to Entertainment Tonight.
In August of last year, for example, Legend told Cosmopolitan,
Having a baby is a big challenge for a couple, and going through that together strengthens your bond because if you make it through [having a child], you know you can make it through anything. I think it's especially difficult when you can't conceive naturally. You want to feel like everything's working properly and want everything to be perfect, but sometimes it's not.
Teigen did confirm recently that she and Legend had used IVF to conceive their second child, according to People. She revealed in an interview with the magazine that she found out she was pregnant 11 days after treatment. Teigen added,
You get the phone call and you're like, 'Please, please, please,' and then you get the result and then you're so excited. It does make for a very long-feeling pregnancy because you know so early.
Check out Romper's new video series, Romper's Doula Diaries:
Watch full episodes of Romper's Doula Diaries on Facebook Watch.