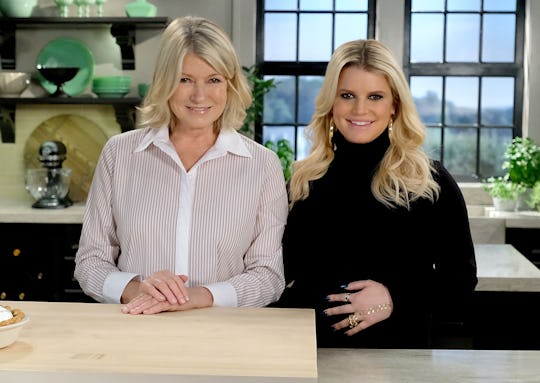 Jamie McCarthy/Getty Images Entertainment/Getty Images
Jessica Simpson's 'Friendsgiving' With Martha Stewart Looked Amazing
Jessica Simpson seems to be really loving life during her third pregnancy. The mom of two isn't letting her growing baby bump slow down her fun, probably because this is her third time around and she's a pro at pregnancy at this point. In fact, she's so comfortable with her pregnancy that she's pulling off extra holiday hosting duties and getting charitable in the process. Jessica Simpson hosted a "Friendsgiving" with Martha Stewart over the weekend, and she did it for a really great cause.
Simpson teamed up with Stewart to create a special Friendsgiving, which is essentially Thanksgiving with friends (although isn't that just Thanksgiving for some people anyhow?), in support of the No Kid Hungry charity. As the singer wrote on the No Kid Hungry website, she wanted to raise money for the worthy charity by challenging herself to host a Friendsgiving to raise money to make sure that all children get the nourishment they need to grow. She explained, "As a mom, there's nothing more important to me than making sure my kids have the things they need to grow up healthy and strong. I recently learned that 1 in 6 kids in America are hungry. I was shocked by this statistic and needed to find a way to help."
The only problem? Apparently she "just needs to learn how to cook." Which is apparently where the "friends" part comes into play.
Fortunately for Simpson, she apparently has at least one friend who is an exceptionally good cook: Martha Stewart, you might have heard of her. If you're anything like me, Martha Stewart has managed to fool me into thinking I can pull off an extravagant feast while looking calm and relaxed more times than I care to admit. In Simpson's case, Stewart was actually on hand to make sure the meal went off without a hitch, even if she did manage to go a little haywire with a blow torch while toasting some meringue in this video.
Simpson explained to People that she wasn't going to let a little thing like a pregnancy get in the way of doing some good (and probably having loads of fun) over the weekend:
I was raised in a family of service. I am blessed in my life to be able to give back in many ways, and I love teaching my kids that having a giving spirit is the most rewarding way to celebrate.
Now Martha Stewart might have been loads of help in the kitchen, but don't go thinking Simpson didn't have a few little tricks up her sleeve. As she told People:
Chicken and dumplings is my signature dish. My recipe is very simple but you would never know it. My friends are always begging me to make it for them!
At the end of the day Simpson, who shares 6-year-old daughter Maxwell and 5-year-old son Ace with husband Eric Johnson, has a lot to be grateful for. And this idea to host a Friendsgiving to raise money to make sure kids are eating enough?
That's a win-win.
Season 2 of Doula Diaries shares the stories of fearless doulas helping their clients take control of their births and make tough choices that feel right to them. Watch the first episode of the new season Monday, November 26th.