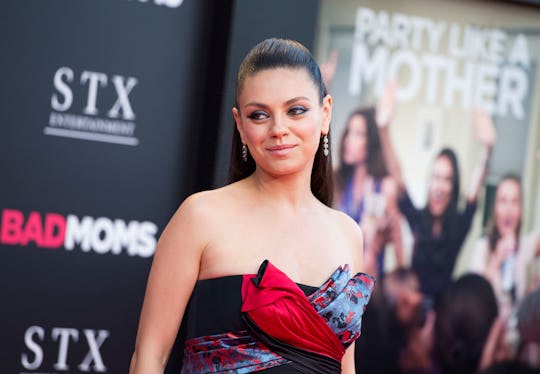 VALERIE MACON/AFP/Getty Images
Pregnant Mila Kunis Is Already Talking About Having More Children
It looks like this Bad Moms star has found her perfect role as a real life mama and has an adorable case of baby fever. In a recent interview with radio talk show host Ryan Seacrest, Mila Kunis revealed she wants to have more children as she's currently pregnant with baby number two. She and her husband Ashton Kutcher are parents to their one-year-old daughter, Wyatt, and plan to continue growing their family until they feel it's complete.
"After we had Wyatt, the second I gave birth, I knew we had to have another baby. We both knew it, we just felt it," Kunis said during an interview with On Air with Ryan Seacrest on Friday. "And so I always say after the second one, we'll know if we need to have another one. I really do believe you know when your family is complete."
The 32-year-old actress confirmed that she was expecting her second child just last month and showed off her budding baby bump earlier in July at a screening of her new comedy Bad Moms. So, even though Kunis is presumably in the early stages of her second pregnancy, she seems to be loving motherhood and all of its challenges.
The former That '70s Show star and working mom has spoken candidly before about pregnancy, most recently calling motherhood a "balancing act" during an interview with Entertainment Tonight — something most moms can relate to.
"Having this little human to raise ... it was a balancing act, and then you learn how to be a great partner, and a great wife, and a great woman, and be yourself, and still be responsible for a living child," Kunis said during the July interview Entertainment Tonight. "It's definitely a learning process."
But, even though her first child brought plenty of pregnancy and parenting challenges, Kunis revealed in a separate interview with Entertainment Tonight that the second time around has been "very different."
"I forgot how far along I was today," Kunis said in the interview with Entertainment Tonight in early July. "I think with the first one, you're so enamored with the initial experience that I was constantly checking the app, 'What fruit size is the baby? Is it the size of a grape or an avocado?'"
She added, "Now I'm like, 'Wait, how far along am I?' You're busy running after the other one and working full time."
Even though the rest of the world would love little Wyatt to have lots of other adorable siblings, according to the glowing mom-to-be, she and her hubby will know when time is right to continue, or to stop, growing their family. That's all fans can hope for from the talented Hollywood couple.