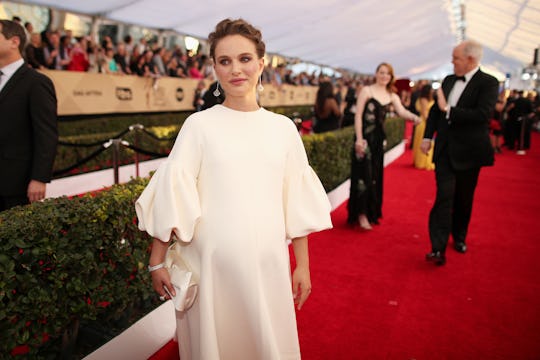 Christopher Polk/Getty Images Entertainment/Getty Images
Pregnant Natalie Portman Starred In Music Video
Natalie Portman welcomed her second child, Amalia, in late February but she was staying pretty busy in the days leading up to the big day. On Monday, James Blake released a music video featuring a pregnant Portman just days before the actress gave birth and it's so much better than any pregnancy photoshoot the new mom could have taken. Hey, when you have an opportunity to star in an artsy music video featuring your glorious bump, you take it.
According to Entertainment Weekly, the video was shot "just days" before Portman welcomed her daughter. It was also just around the time of the Oscars, where Portman was nominated for her performance in Jackie. She regretfully skipped the red carpet and the Oscar's ceremony initially "due to her pregnancy," but it was later revealed that Portman had her baby just before the Academy Awards. You have to give her props for sneaking the music video in and giving a coy response as to why she was sitting out the busy award season (she also didn't attend the Independent Spirit Awards) without attracting any suspicion, all while simultaneously bringing a new baby into the world like a champ. (#MomGoals.)
The video in question was for Blake's "My Willing Heart," which is off of his 2016 album The Colour in Anything. The album was released last spring, but this is the first track to get a music video treatment.
The black and white video features Portman swimming in a pool and sitting on a bed on a cozy sweater, rubbing her belly. She also plays with a small child at one point, too. The song's sort of dreamy tone and the visual imagery of Portman swimming around, contemplating her belly, mix really well. There's a lot going on, but it all flows seamlessly.
The song itself was co-written by Frank Ocean, who added "Millennial lyrics," according to Blake. The 27-year-old musician said, "That sums up Frank's ability to be in the now. I worry about the future too much to be able to comment on the moment so well. I'd say he's one of the best lyricists around."
Ocean and Portman weren't the only high profile stars that Blake worked with on this latest album. Collaborations included Rick Rubin, Justin Vernon (from Bon Iver), and last, but never least, Beyoncé. The latter collaborated with Blake on the song "Forward," which is also featured in the visual album Lemonade, as a soundtrack to the part of the film featuring the mothers of victims of police brutality.
Blake loved it. He said, "I cried when I saw it, because it was overwhelming, after having seen all the police brutality on video from across the pond, and every time being so angry and being so riled up. Just to be involved at all was an honor."
We have a feeling that's exactly how Portman felt filming this pregnancy video, too. Congrats to Blake on the gorgeous video and to Portman for, well, being an ethereal badass in general.