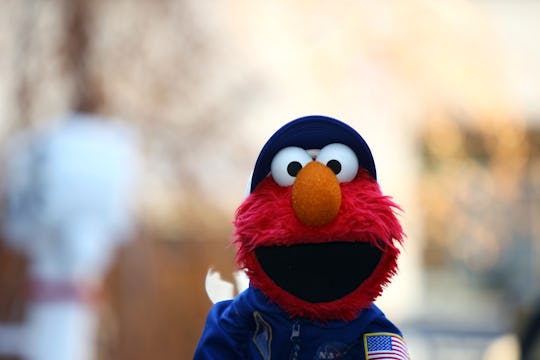 Neilson Barnard/Getty Images Entertainment/Getty Images
Elmo & The Weather Channel Are Here To Help You Prepare Your Child For Hurricane Season
Recently upgraded to a Category 4, Hurricane Florence is gearing up to be a whopper. As families along the East Coast prepare for the storm, the Weather Channel and Sesame Workshop are encouraging parents to get children involved in the preparations. These videos teach kids about storm safety, and the information contained in them could be lifesaving.
Part of the Sesame Street in Communities initiative, these unique videos pair Sesame Street favorite Elmo with the Weather Channel's trusted meteorologists. While this might sound like an unlikely pairing, the result is kind of amazing. The first video in the series aired this morning on The Weather Channel's AMHQ morning show, showing Elmo discussing storms with Stephanie Abrams.
Together, they go over how hurricanes work and what to do before, during, and after a big storm. With Hurricane Florence bearing down on Virginia and the Carolinas, the Weather Channel and Sesame Workshop hope that their videos will help children feel prepared for the storm. Through education, they aim to reduce fear and increase public safety and understanding.
In an emailed press release, Dr. Jeanette Betancourt, Senior Vice President of US Social Impact, Sesame Workshop, explained how the videos can help. "Severe weather events and natural disasters can be scary for young children, who may not fully understand what's going on around them," she said. "We're thrilled to join The Weather Channel to share simple tips for families to help them stay safe during severe weather and provide comfort to children on even the scariest, toughest days."
Along with hurricane safety, the videos will cover other severe weather including tornados, floods, thunderstorms, blizzards, and more. The series will air throughout the next few months, as seasonally appropriate for each topic. Nora Zimmet, Senior Vice President of Content and Programming at the Weather Channel stated that Hurricane Florence makes this a perfect time to walk with children about storm safety:
Our mission at The Weather Channel is to provide the public with critical information to keep them calm and prepared when storms hit. The incoming threat of Hurricane Florence is an additional reminder that we need to talk to our children about how to stay safe. We are excited to partner with Sesame Workshop, so that our message reaches kids in a way they understand.
This isn't the first time that the Sesame Street gang offered kids important information about natural disasters. A 2001 a week of episodes exposed kids to the process of preparing for a hurricane and dealing with the storm's aftermath. Big Bird even lost his home in the show's storm, exposing children to the potential for devastation that comes with hurricanes, according to Parade. When Hurricane Sandy was approaching, an hour-long condensed version of the storyline aired once again.
One of the show's human characters, Gordon, explained at the beginning of the episode why kids need this information:
Every year, there are a number of natural disasters that affect many people. Even if you are not directly affected, the television coverage of these events can be scary — especially to young children.
Resources like the video series and this episode of the show can help you start a dialogue with your children about storms.
Kids Health also recommends preparing children for storms before they hit, as well as keeping them engaged during and after the storm. Including kids in pre-storm preparations — like creating a family disaster kit and discussing your family's potential evacuation plan — are good ways to keep them busy and distract them from worries. During the storm, parents should attempt to maintain as normal of a routine as possible and encourage kids to discuss how they are feeling about the storm. Once the storm has passed, Kids Health recommends monitoring media exposure to make sure that kids don't see any potentially upsetting images of destruction. Instead, let them help clean up any fallen leaves or debris around your home.
Consider adding Elmo to your pre-storm preparation plan. He and Abrams can help you prepare your little ones for what could be the storm of their lifetimes.