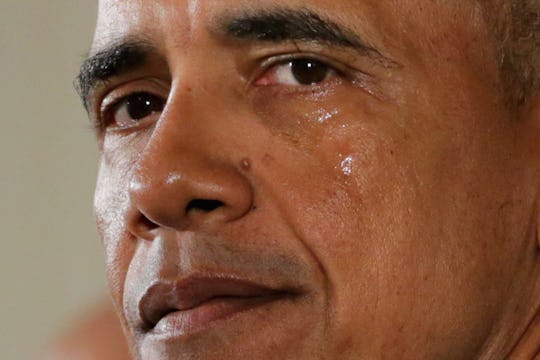 President Obama Cried During His Speech On Gun Violence & It Wasn't The First Time He's Become Emotional
During an address outlining his proposal to curb gun violence on Tuesday, President Barack Obama shed a few tears and raised a few eyebrows. Although it may seem shocking for the leader of the free world — who also happens to be a man — to cry in public, there's absolutely no shame in acknowledging that he's a human being with emotions. Because he had a lot to be emotional about. During the speech he listed just a handful of the many, many times he's had to address the nation following a mass shooting. Obama's speech Tuesday was just one of many times he wasn't afraid to show his emotions, because the issues he's dealing with are serious, and sometimes remaining stone faced just wouldn't be human.
According to The Week, Obama has spoken after twelve mass shootings during his seven years as president. I'd cry, too. In an interview with the BBC last July, Obama shared that his greatest frustration during his presidency has been his inability to pass "common sense gun safety laws." Many people are hopeful that his new executive orders can bring about change, though Republicans are already threatening to challenge them in court. It seems like a no-brainer that gun violence is a serious problem in America. Politifact reported that over 300,000 Americans have died due to gun violence in the last decade (less than 100 have been killed by terrorists). That's enough to make anyone with a conscience weep for the U.S..
But here's the thing: this wasn't the first time that Obama has cried publicly, or publicly admitted to a private cry. Perhaps due to the fact that he's on camera more often than presidents of the past, or maybe because he's just more in touch with (and unashamed to express) his emotions, we've seen our president cry quite a few times. Here are six other times Obama has cried, because he's just a human being.