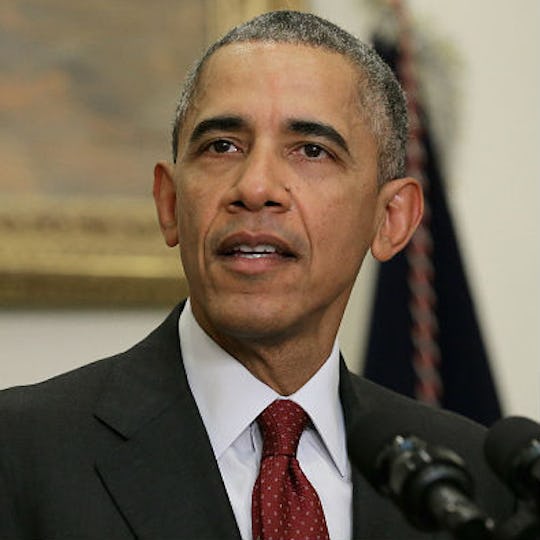 Chip Somodevilla/Getty
President Obama's Message About Laquan McDonald Is A Heartfelt Reminder During The Holiday
On the eve of Thanksgiving, President Obama shared a message about Laquan McDonald, the 17-year-old who was shot 16 times in a staggering 15 seconds. Obama's message comes a day after the Chicago police department released a graphic dash-cam video capturing McDonald's final moments, where he was shot down by on-duty police officer Jason Van Dyke.
Since that fateful night and the recent release of the video, Chicago has been the scene of numerous anti-policy brutality protests and demonstrations. Four arrests — including the arrest of lead protestor and poet Malcolm London — and trending hashtags were the result of a relatively peaceful public decent, arguably facilitated by a first-degree murder charge for officer Van Dyke, an arguably unprecedented reaction to on-duty fatalities perpetuated by police officers.
But despite the peace, Obama took to Facebook Wednesday night to add his own comments concerning McDonald's untimely death and the protests that followed. A native of Chicago, it is clear that Obama has a pained, vested interest in this particular case of fatal police brutality, although similar situations have plagued his presidency.
"Like many Americans. I was deeply disturbed by the footage of the fatal shooting of 17-year-old Laquan McDonald," Obama wrote on Facebook. "This Thanksgiving, I ask everybody to keep those who've suffered tragic loss in our thoughts and prayers, and be thankful for the overwhelming majority of men and women in uniform who protect out communities with honor. And I'm personally grateful to the people of my hometown for keeping protests peaceful."
Obama is known for his ability to deliver poignant speeches, but this statement seems to hit with a more powerful punch being delivered so close to Thanksgiving when numerous families will gather around a table and celebrate the many things they're thankful for.
It's important to point out that while Obama is quick to voice the disturbance he felt when viewing the footage of the now infamous shooting, he also lends his support to the men in women in uniform and doesn't condemn police altogether.
His message serves as an important reminder that, when disbelief and confusion can so easily transform to blind hatred, the actions of a few — no matter how horrific — are not the representation of all.
Images: Chip Somodevilla/Getty