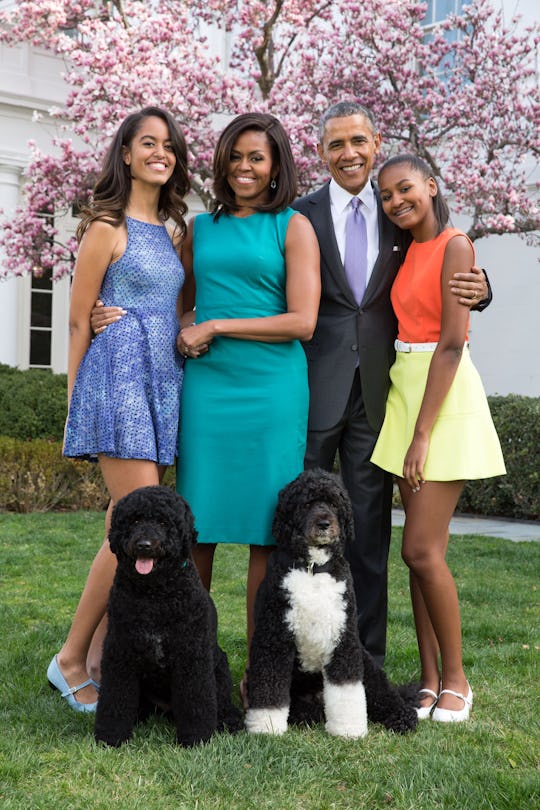 Handout/Getty Images News/Getty Images
President Obama's Mother's Day Message Is Heartfelt & Real
As President Obama's second term as president winds down, he keeps reminding us how much we're all going to miss him. From (literally) dropping the mic at the White House Correspondents' Dinner to responding to questions about Donald Trump by saying that the presidency is "not a reality show," he's doing most everything right. And now, President Obama has shared a Mother's Day message that's lovely and heartfelt — one that takes on extra meaning in light of what he has said in the past about his relationship with his own mother.
Obama posted the message on his official POTUS Facebook account Sunday morning. In it, he thanked his mother for "instilling in me a sense that I could do anything if I worked for it," a belief that later led to him becoming president. He thanked superwoman Michelle Obama and her mother for all the hard work they put in to raise Malia and Sasha, and said he was "lucky to have lived [his] life surrounded by such remarkable women."
Finally, he reminded everyone to thank their mothers, or mother figures, and to say "I love you," not only on Mother's Day, but all year round. He included two adorable throwback pictures with the post, one of him as a little boy with his mother, and one of him, Michelle, and their two daughters way back before Malia was even considering Harvard.
While the message is sweet and true simply taken on its own terms, it's especially meaningful when remembering that Obama's mother died of cancer in 1995, a few weeks before her 53rd birthday, and two years before her son got elected to the state senate in Illinois. She never got to see her son's meteoric rise, and the ways in which her faith in him led to him becoming one of the most influential people of our time. Obama has said in the past that one of his regrets in life was not spending more time with his mother, and a day like Mother's Day can definitely serve to underline those sorts of regrets when your mother is no longer around.
Obama also spent this Mother's Day focusing on how to make life easier for mothers in the United States. In an address posted on the White House website, he called on Congress to back up their holiday celebration of mothers with tangible benefits, saying:
That includes paid maternity and paternity leave, sick leave, accommodations for workers who are pregnant, good health care, affordable child care, flexibility at work, equal pay, and a decent minimum wage. We ask our mothers to do more than their fair share of just about everything. Making sure they're treated fairly is the least we can do.
In a separate post on Medium, the president addressed the current push to close the "diaper gap," writing,
Access to clean diapers isn't just important for a child's health and safety. Research has shown that mothers who are unable to afford diapers for their babies are more likely to suffer from maternal depression and mental health issues. ... There's a lot more work to do, and because this is an important issue for dads too, I hope to report more progress by Father's Day. But I'm proud to say that we're off to a great start.
Here's hoping that, in addition to thanking the important women in their lives, the members of Congress take up Obama's charge on all fronts, so that mothers are treated with the respect they deserve all year long.