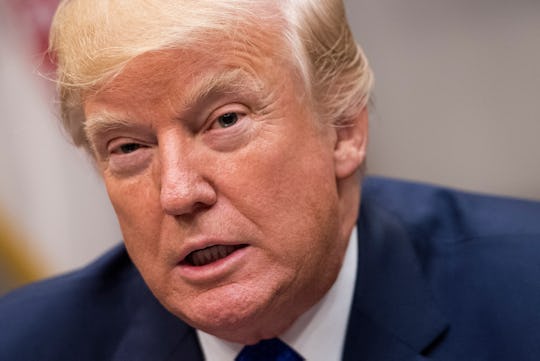 Pool/Getty Images News/Getty Images
Those Violent Videos That Trump Retweeted Might Be Fake, & They're Incredibly Dangerous
Wednesday was another bleak morning for President Trump's blatant anti-Muslim agenda. Despite the fact that Trump's attempted travel ban against several Muslim-majority countries continues to be partially blocked by courts, those failures don't appear to be slowing down his hate-fueled rhetoric. On Wednesday morning, Trump retweeted violent videos of extremists, but those videos were absolutely not what they first seemed.
President Trump retweeted three videos, all of which appeared to be videos of supposed "Muslims" assaulting people, with one video showing an attack on a statue of the Virgin Mary. Those videos were initially shared by Jayda Fransen, the deputy leader of Britain First, according to CNN. Britain First is considered a far-right extremist group that promotes ultra-nationalism, and Fransen has come under fire more than once for her inflammatory comments about Muslims in particular. In 2016, Fransen was charged with religious aggravated harassment after she was caught on video verbally abusing a Muslim woman in front of her children in Bury Park in London, according to the Huffington Post UK. Just one week later, Fransen went on record to say she believed the police should be allowed to shoot Muslims. Fransen posted the three videos of people she claimed were Muslims attacking a boy on crutches, pushing a man off a roof and beating him to death, and defacing a statue of the Virgin Mary. And President Trump, who has nearly 44 million followers on Twitter, chose to retweet those videos. Without any fact-checking or any concern for the sort of anti-Islam violence such videos might incite. Fransen did not immediately respond to Romper's request for comment regarding her alleged bias against Muslims and whether the videos she shared were deceptively edited or completely fake.
So here is what you need to know; those videos have not been verified and could potentially be fake. The people causing violence in the videos have not been positively identified as Muslim. Not even the White House press secretary has confirmed the validity of the videos, which were crassly retweeted by the President of the United States. Press Secretary Sarah Huckabee Sanders said during a Wednesday press briefing that, whether the videos were fake or not, "the threat is real," according to The Hill:
I'm not talking about the nature of the video. I think you're focusing on the wrong thing. The threat is real and that is what the president is talking about is dealing with those real threats. And those are real no matter how you look at it.
The logic seems to be that the president can share his own fake news as long as it promotes his own agenda — as long as he's pushing for border control and tighter national security.
Trump has made no secret of his bias against Muslims in the past. He has been attempting to implement travel bans against several Muslim-majority countries ever since he was sworn in as president in January, though two of the three attempts have so far been blocked by the courts, according to CNN. His third attempt is currently being challenged at the Supreme Court level. The third ban, which aims to place a variety of restrictions on immigrants from Chad, Iran, Libya, North Korea, Syria, Venezuela, Somalia and Yemen, has already been challenged twice and partially blocked both times, according to CNN.
Trump has made it clear that he wants to stop Muslims from entering the United States, and these unverified videos help plead his case to his followers.
Followers like former Ku Klux Klan Grand Wizard David Duke applauded Trump in a tweet.
Sharing these videos could not only further increase Islamophobia in the U.S., they could also have a pretty terrifying global backlash.
Former National Security Adviser James Clapper told CNN that Trump's retweet of those videos is especially concerning:
I think it causes friends and allies to question where is he coming from with this. So it has all kinds of ripple effects both in terms of perhaps inciting or encouraging anti-Muslim violence, and as well, causes, I think, our friends and allies to wonder about the judgment of the President of the United States.
Already, British Prime Minister Theresa May has gone on record to condemn the videos Trump shared. According to The Huffington Post, a spokesman for May said in a statement:
Britain First seeks to divide communities through their use of hateful narratives which peddle lies and stoke tension. They cause anxiety to law-abiding people. British people overwhelmingly reject the prejudiced rhetoric of the far-right which is the antithesis of the values that this country represents: decency, tolerance and respect. It is wrong for the President to have done this.
It's unclear how or if President Trump will be held accountable for his actions. Or perhaps it's finally time that his Twitter privileges are revoked.