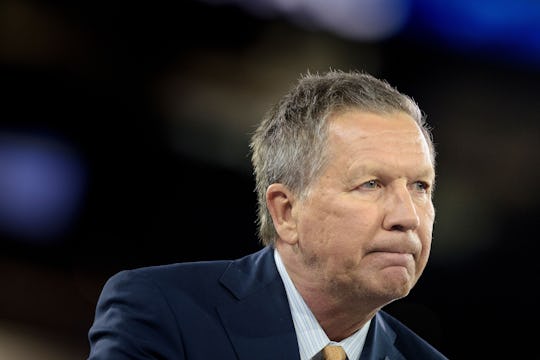 BRENDAN SMIALOWSKI/AFP/Getty Images
Presidential Candidates' Reactions To The Brussels Attack Express Solidarity
After explosions rocked the Brussels airport and subway Tuesday, according to the Associated Press, people around the world took to Twitter to express their concern and sympathy. It was natural for those vying to become president of the United States in 2016 to join them, and the presidential candidates' reactions to the Brussels attack stand to impact how America thinks of them as statesmen.
(Update: ISIS has claimed responsibility for the terror attacks in Brussels Tuesday.)
CNN reported that multiple explosions occurred in Brussels Tuesday. One was in a subway station in Maalbeek, near European Union headquarters, and at least two were at the Brussels Airport departure hall. The attack comes months after the deadly November explosions and shootings in Paris, for which ISIS claimed responsibility, and less than a week after the capture of Paris suspect Salah Abdeslam in Brussels.
As of Tuesday morning Easter Time, it was too soon to know the exact injury or death count. In the immediate aftermath of the Brussels tragedy, Belgian Prime Minister Charles Michel told reporters, "We were fearing terrorist attacks, and that has now happened," according to CNN.
Republican Ohio Gov. John Kasich was the first U.S. presidential candidate to release a statement on Twitter, emphasizing the need to work with U.S. allies to fight terrorism:
Businessman Donald Trump, the Republican frontrunner, offered a more ominous message:
And followed up later in the morning with a plug for his campaign:
Ted Cruz released a series of tweets focusing on "radical Islam" and Obama, and his own candidacy:
Then, to drive those points home, Cruz tweeted a longer statement:
ABC News tweeted former Secretary of State Hillary Clinton's statement in response to the attack. Like Kasich, Clinton, a Democrat, focused on working with allies to fight "radical jihadism":
Clinton also tweeted:
And later:
Bernie Sanders' response also focused on uniting with allies, and also focused on the losses suffered by the families of the victims:
Finally, Marco Rubio, who only dropped out of the race last week, tweeted his condolences and a call to action:
Of course, words won't bring back the victims, but the candidates' responses to what happened in Brussels Tuesday may offer a glimpse into how they might respond to such a tragedy as commander-in-chief. In other words, it may influence how people vote in the remaining primaries and who ultimately becomes president. And that is significant.