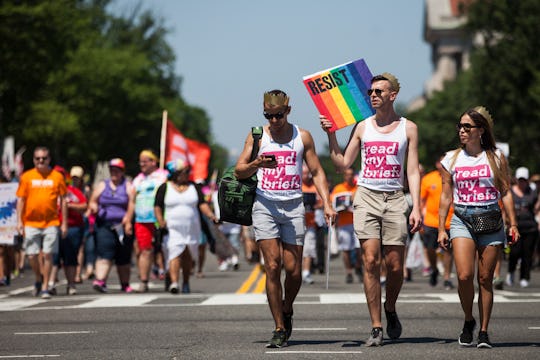 Zach Gibson/Getty Images News/Getty Images
Pride March Photos That Prove We're Raising Inclusive Kids
On Sunday, Americans took to the streets in cities across the country in order to march for LGBTQ pride, and the resulting events were a fantastic mix of colorful, loud, happy, and defiant. This year, many marches also took on a tone of resistance, with attendees protesting the current administration and standing up for civil rights. If you didn't manage to make it to a pride march in your city this year, don't worry: The best moments were captured on camera. The best Pride March photos from this year show love conquers all, and prove that we're raising our kids to be open-minded and fearless.
It's been a rough year, in several ways, for the LGBTQ community. In January, the country inaugurated a vice president who has advocated for conversion therapy. In February, the Trump administration rescinded President Obama's federal policy barring public schools from discriminating against transgender children. In March, LGBTQ advocates claimed that the Census Bureau's new decision not to include questions on sexual orientation and gender identity in its 2020 survey was a step backwards.
According to the Southern Poverty Law Center, the number of hate groups in the United States came close to meeting 2011's record-breaking high last year, and a wave of hate crimes took place immediately after Election Day, with a total of 109 anti-LGBTQ incidents taking place in the 34 subsequent days.
With all of that going on, fighting prejudice and remaining hopeful about the future can seem difficult at times — but photos of the pride marches taking place across the United States prove there's definitely hope for the next generation.
People Stood Up For Trans Kids' Rights
Parents Had Their Kids Join The Fun, Because It's Never Too Early To Support Equal Rights
Families (Of All Stripes) Radiated Love Above All
... & Most Importantly, Kids Proved They've Already Got This Locked Down
With marches taking place in over a hundred cities in the United States on Sunday alone and such a strong outpouring of support for the LGBTQ community, something tells me the kids will be just fine. There are clearly so many families raising their children to be open-minded and to see love and inclusiveness as the norm. And while the world may still have a fair way to go, we've obviously come a long way.
If you didn't manage to make it to the Pride March in your city today, there are still plenty of ways to support the LGBTQ community during Pride Month — and every day after that.