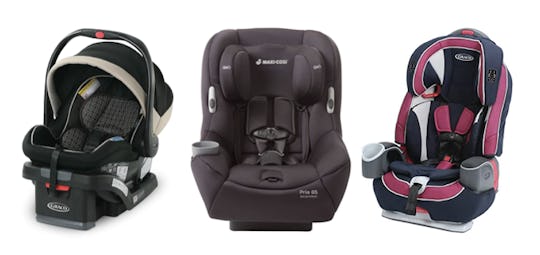 Amazon
Maxi-Cosi, Graco, & More Car Seats Are Majorly Discounted For Prime Day
Amazon knows that being a parent is incredibly expensive. There are a ton of big ticket items that are absolute must-haves for your baby, and it doesn't stop at infancy. Things like strollers and car seats often need to be purchased more than once as your child grows. Thankfully, mega retailer Amazon usually features some of these products in its Prime Day lineup, offering deep discounts on the pricey purchases. This year, the Amazon Prime Day car seat sales might be the best yet, with big name brands and luxury goods at a way more affordable price point.
Some of the biggest sales for Amazon's Prime Day (July 15 and 16) are on car seats from perennial favorite brand Maxi Cosi. Known for their luxurious, yet easy-to-clean fabrics and finishes, as well as a commitment to safety and innovation, these car seats are power houses that work from birth through toddler and beyond. And luckily, they will be discounted deeply, up to $100 off of the original purchase price, making it a great choice for families as well as those who are looking at baby shower gift lists hoping to go in with a few others on a more expensive item. This would be the perfect place to start. Another favorite, budget-friendly Safety 1st, will also be on sale at an even more affordable price point, and has nearly as many features.
Prices are for July 15 and 16 only.