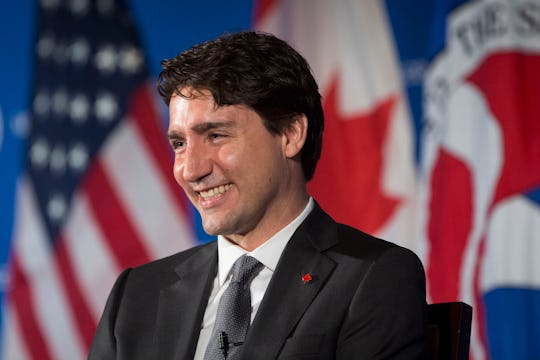 Drew Angerer/Getty Images News/Getty Images
Prime Minister Justin Trudeau Honored Pride Month In This Amazing Way
Not since Ryan Reynolds have I been so proud to announce to the world that I. Am. Canadian. There was a time when I might have tried to keep my nationality under wraps, a sordid little secret. Back when our country was feeling sort of boring and I hate to say it, but rather insignificant. No longer. For so many reasons, but one especially important one: our Prime Minister Justin Trudeau, who just honored Pride month in Canada in the most amazing way.
I'm going to give y'all a little background about our main man up here in the Great White North. He is the son of former Prime Minister Pierre Trudeau. His dad was sort of like him — enlightened, charismatic, passionate, except without the killer bod and gorgeous face. He is the first son of a Prime Minister to ever take over the office, which means I now refer to them as the "Kennedys of Canada" (this is something we do up here, we obsess over all things American and then try to find our own facsimiles).
Trudeau didn't get into politics until after his father died in 2008; But within seven years he managed to become the leader of the Liberal party and ousted a very boring Prime Minister named Stephen Harper in a landslide election. Trudeau has also been a boxer, a lifelong yoga devotee, and an English teacher who speaks fluent French. Also his hair is delicious.
Since Trudeau became Prime Minister, our country has started to feel different. Like, is it just me or are we suddenly one of the cool countries? Our Prime Minister is the one who not only wants to legalize marijuana but is actually taking active steps towards making it happen (right on, man). He is an outspoken feminist who most recently won the United Nations Gender Equality Award and had this to say to the UN Women's Conference about feminism:
It shouldn't be something that creates a reaction. It's simply saying that I believe in the equality of men and women and that we still have an awful lot of work to do to get there. That's like saying the sky is blue and the grass is green.
And now Trudeau is quite literally flying his flag in support of the LGBT community. For the first time in history, the rainbow-colored Pride flag was raised at Parliament Hill in the nation's capital city of Ottawa on Thursday to honor Pride month. Trudeau told the crowd in attendance outside Parliament Hill that "Canada is united in its defense of rights and it's standing up for LGBTQ rights." He pointed out that it wasn't only Liberal politicians in attendance, but members of opposing parties as well.
Trudeau will also be the first sitting Prime Minister to march in the Toronto Pride Day parade, although this will by no means be his first time in attendance. Last year alone he attended two separate Pride parades, one in Vancouver and one in Montreal.
That's the thing about Trudeau. He just gets it. He gets that homophobia is a thing of the past and doesn't mind fearlessly spearheading some significant change. And he makes it look as easy as breathing.
So there you have it, my fellow Americans. If any of you are still thinking about coming north if a certain someone becomes your next President... what more incentive do you need?