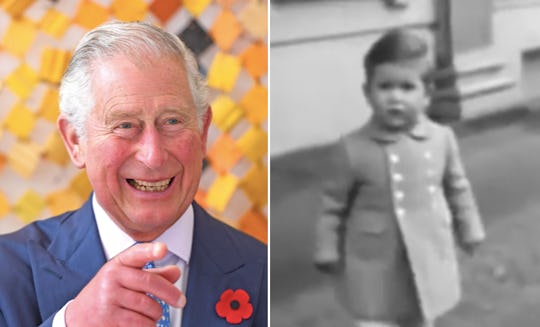 WPA Pool/Getty Images Entertainment/Getty Images/ The Royal Family/ YouTube
Celebrate Prince Charles Turning 70 With Some Of His Sweetest Childhood Photos
Prince Charles of Wales may still have some time to wait before celebrating his own coronation day, but in the meantime, he gets to celebrate his 70th birthday this week. That's right — the heir to Queen Elizabeth II's throne is turning the big 7-0 today, Nov. 14, so now seems like the perfect time to reminisce over Prince Charles' adorable childhood photos.
Princess Elizabeth (as the queen was known back then) and Prince Philip, Duke of Edinburgh welcomed Prince Charles on Nov. 14, 1948. Less than five years after giving birth to Princes Charles, Elizabeth became the queen, according to the BBC. Her ascension instantly made Prince Charles the heir apparent to the throne — a position he has held for about 65 years now.
The prince's childhood was very different from most royals before him in that he attended a traditional school, instead of studying with private tutors. Prince Charles attended Hill House International Junior School in London, according to The Times, and since then, his descendants (except for baby Prince Louis, of course) have all followed suit and went to traditional schools and even colleges.
Cameras weren't as prominent in the 1950s as they are today, but luckily, there are still plenty of photos capturing Prince Charles' childhood. Up first is a photo of Princess Elizabeth holding her son when he was just a few weeks old. Look at those chubby cheeks!
You don't usually expect there to be home movies of people who were children in the 1940s and 1950s, but there are actually a few videos of Prince Charles as a toddler. Shared by the The Royal Family's official YouTube account, two short films called "Prince Charles at Home" were filmed in 1949 and 1950. Now that's a smiley baby!
Every June, the people of England celebrate the queen with Trooping the Colour, a parade in honor of the sovereign's unofficial birthday. Back when Prince Charles attended the parade in 1951, he probably had no idea that one day, Trooping the Colour would be held in his honor one day. Just look at that tiny smolder!
In 1952, photographers captured Prince Charles and his sister Anne, Princess Royal goofing around with their mom at Balmoral Castle, a royal residence in Scotland, according to Mashable. One shot shows Charles hoisting Anne up to Princess Elizabeth as she pulls her daughter in through the window. You know, your average method of entering a castle.
Queen Elizabeth and her two kids posed for a few other adorable photos that day, and the pictures make it clear how much fun they all had together.
The following year, Princess Elizabeth became Queen Elizabeth. At her coronation, photographers caught Prince Charles in a less-than-royal moment, according to Town & Country. Hey, everyone gets bored sometimes!
And finally, there's this utterly fabulous photo of Prince Charles and Princess Anne, which was taken in 1954, according to the Daily Mail. That foot pop, though!
Based on photos, Prince Charles was an adorable kid with plenty of enthusiasm — except when it came to his mother's coronation, that is.
Happy birthday to the prince!