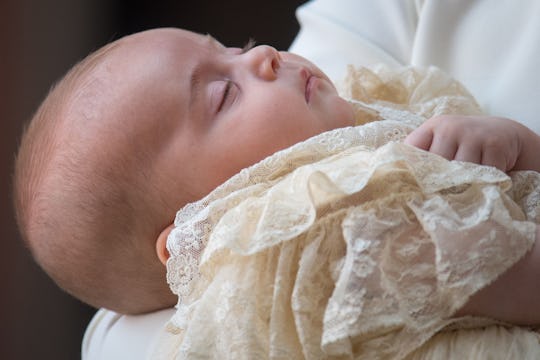 WPA Pool/Getty Images Entertainment/Getty Images
This New Photo Of Prince Louis Will Make You Clutch Your Heart & Say "Awww!"
Last week, Charles, Prince of Wales turned 70 years old. In honor of the occasion, the heir apparent and grandpa of three (soon to be four!) posed for a family photo shoot along with the rest of the immediate royal family. Because of the great response to the photos, the photographer just published one additional shot. And this royal portrait of Prince Charles and his grandson Prince Louis of Cambridge shows the special bond the two already share.
Chris Jackson, the official Getty Images Royal Photographer, is responsible for the new photos of the royal family taken to celebrate Prince Charles' birthday. On Monday, Jackson posted a photo of Prince Charles holding Prince Louis, who is nearly 7 months old now. In the photo, Prince Louis is smiling with his hand in his mouth, and Prince Charles is beaming from ear to ear.
"There's been such a great response over the last week to The Prince of Wales at 70 pictures I took over the last year and I just wanted to say a 'thank you' for all the lovely comments," Jackson captioned the gorgeous photograph. He added that he is so grateful to Clarence House, Kensington Palace, and the team at Getty Images for helping these photos come together.
The photo also ran on the cover of England's The Sunday Times Magazine this weekend, as Clarence House shared on Twitter.
The royal family hasn't publicly shared too many up-close photos of Prince Louis, so fans were super excited to see this one on Monday. Not to mention, people were pretty jazzed about the photos released on Prince Charles' birthday last week, because Jackson captured another playful moment between the young prince and his grandfather.
First, the royals released this very nice group shot taken in the garden of Clarence House, in which everyone is pleasantly smiling at the camera.
Then, the family shared this slightly goofier photo, which I can only imagine was the result of someone offscreen trying really hard to get everyone to laugh.
Then, Prince Louis decided to make things even goofier. In a final group shot, he reached forward to playfully grab his grandpa's face, eliciting a hearty laugh from Prince Charles as well as the rest of the family.
Jackson, who has been photographing Prince Charles exclusively for the past year, opened up to The Sunday Times about what the prince is like as a grandpa, as well as what he was like during the photo shoot. "He is a very hands-on grandfather. He was holding hands with George and Charlotte, and bouncing Louis up and down for a long time," Jackson told The Sunday Times, according to ELLE. "George was very happy on the prince's knee. They have a great relationship that's a little more established, as George is a bit older."
That said, Prince William sometimes wishes his father would spend a little more time with his three kids: Prince George, Princess Charlotte, and Prince Louis. "I would like him to have more time with the children," Prince William said in the recent BBC documentary Prince, Son and Heir: Charles at 70, according to Entertainment Tonight. "Having more time with him at home would be lovely, and being able to you know play around with the grandchildren. When he's there, he's brilliant, but we need him there as much as possible," Prince William continued.
It's clear that Prince Charles and his grandkids are big fans of each other, so hopefully he will soon find more time to focus on them — as well as Prince Harry and Meghan, Duke and Duchess of Sussex's upcoming royal baby!