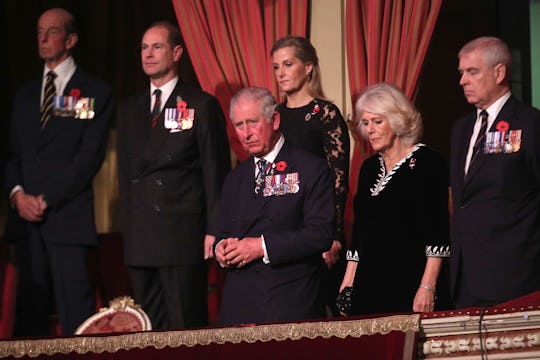 Chris Jackson/Getty Images Entertainment/Getty Images
George, Charlotte, & Louis Steal The Show In The Royal Family's New Portrait
Prince Charles may well be first in line to sit on the throne of England, but he's still just a regular family man in many ways. Sure, there's a new official stamp with his face on it to commemorate the fact that he turns 70 on Wednesday, Nov. 14 and there will continue to be serious functions and such. But mostly, he's just a guy with cute grandkids and a happy family who wants a picture of everyone for his birthday. How do I know this? The royal family's photos to celebrate Prince Charles' 70th birthday were just released, and everyone looks incredibly happy. Most especially Prince Charles, future King of England.
It doesn't hurt that Prince Charles' sons and grandchildren are perhaps some of the most photogenic people ever, of course. And he looks proud as punch to be sitting among them, not to mention more casual than I think I've ever seen the Prince of Wales look in years. Clarence House released two pictures of Prince Charles and his wife, Camilla, Duchess of Cornwall, sitting on a bench outside surrounded by their family; Prince Harry and Meghan Markle, Kate Middleton and Prince William, and their three children Prince George, Princess Charlotte, and Prince Louis.
The first photo shared by Clarence House was lovely but relatively formal, with 5-year-old Prince George sitting perched on his grandfather's knee and 3-year-old Princess Charlotte sitting politely beside Camilla, Duchess of Cornwall, who the children reportedly refer to as "Ga Ga." But in the second photo the family gets super candid. Big laughs from everyone, including newly pregnant Meghan Markle and her sister-in-law Kate Middleton. And for some reason my favorite element of the photo? Camilla with her arm around Princess Charlotte, pointing to something off camera they are both clearly enjoying.
Either that or sweet little Prince Louis' chubby legs. Those are also amazing.
Prince Charles has seen a lot in his lifetime. He is the oldest son of Queen Elizabeth II, longest reigning monarch in the history of forever. And everyone knows he has seen more than his fair share of scandal and grief in his own personal life. His affair with Camilla Parker Bowles while married to Princess Diana and subsequent divorce was one of the worst scandals the royal family has ever seen. Then just a few years later, Princess Diana's death left his two sons grief-stricken, not to mention the rest of the world rather set against him.
After all that, it's rather satisfying to see Prince Charles surrounded by his family, sitting in the garden, enjoying a little laugh at something the rest of us can't see. Something meant for his own family. A family who has adapted to the modern world and are learning to figure out how best to survive within it. A family that continues to grow, with a fourth grandchild on the way and the older ones getting bigger all the time.
Not such a bad way to spend your birthday, it seems. Regardless of whether you're the future king or just a regular grandpa happy to hang out with your family.