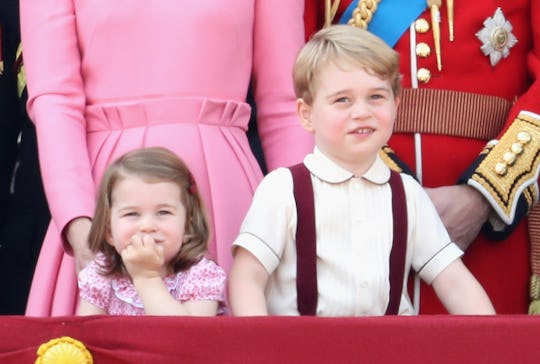 Chris Jackson/Getty Images Entertainment/Getty Images
Prince George Is Learning To Speak Another Language, & Here's Why That's So Important
The British monarchy is not exactly known for ethnic diversity. Like, at all. The British royals have been just about as white and English-speaking as one might imagine, but it looks like there are a few subtle glimmers of hope for a little diversity on the horizon. For instance, Prince George is learning to speak another language, and perhaps it's a sign that the royals are moving towards a more inclusive world view.
Kate Middleton was recently speaking at a charity event in Gloucester to support Farms for City Children and opened up about her children. The mother of 3-year-old George and 2-year-old Charlotte told a young Spanish-speaking attendant that both of her children are learning to speak Spanish. Sayanna, the 9-year-old girl who was speaking with Kate, told Net Mums:
She said she is trying to teach Charlotte Spanish, and said her son George can count up to 10 in Spanish already.
Naturally, my first instinct was to sigh over the image of precious little Prince George learning how to speak Spanish because isn't it so cute? But there's a more important message related to the prince learning a new language — it could be a sign that the young royals are embracing a more well-rounded world view and looking at their roles from a multicultural aspect.
It would make absolute sense for Prince George, who is presently third in line for the throne after his father and grandfather, to speak another language. Spanish in particular, considering it's the second most widely-spoken language on the planet. Net Mums also reported that George and Charlotte's nanny, Maria Teresa Turrion Borrallo, is a native Spanish speaker, which means they're presumably able to get her help along the way.
Still, teaching the children how to speak Spanish could point to a shift in priorities for the royals. While Queen Elizabeth is a well-known proficient at speaking French, the next generation of royals seems to have taken up the charge to speak several other languages on more than one ocassion. Both the Duke of Cambridge and Prince Harry, not to mention their father Prince Charles, have tried their hand at speaking Arabic, while the Duke has also spoken Mandarin, Spanish, and French.
Of course, being mindful of having a multifaceted world view takes a lot more than learning another language, and this is a skill I think both William and Harry learned from their mother. Princess Diana, who tragically died in a car accident in 1997 when her sons were still in their teens, was well known for her charitable work in countries throughout Africa in particular — work both of her sons appear to be carrying on. Prince Harry has a charitable organization called Sentebale, which he co-founded in 2004 to help the most vulnerable children in Lesotho and Botswana. Hello reported that the prince said to a friend about his work:
I have to go along with the way my life is, and in my ways I'm very privileged. It's how things are and I know what I have to do. But I want to spend time out here regularly. It's become really precious to me and I'm learning a lot.
So precious, in fact, that Harry took his fiancee, Meghan Markle, for a visit to Botswana when the two began to get more serious about their relationship. It also bears noting that Markle is American and of mixed-race; another way the predominantly white royals appear to be embracing diversity more in the 21st Century.
William is also the patron of the Africa-based organization Tusk, which supports conservation and education for endangered species.
And now, it looks as though his children are learning to speak Spanish. Because the times are changing, and this generation of royals seems more than up to the task of embracing diversity.
Check out Romper's new video series, Romper's Doula Diaries:
Watch full episodes of Romper's Doula Diaries on Facebook Watch.