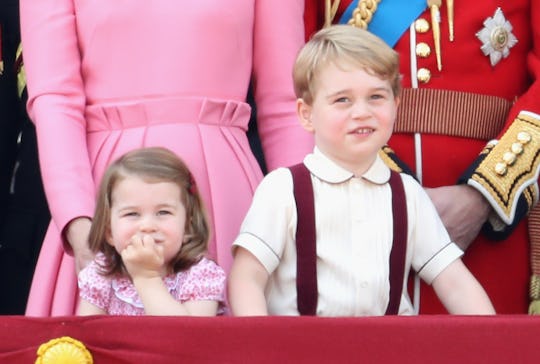 Chris Jackson/Getty Images Entertainment/Getty Images
Prince George & Princess Charlotte Get Into Mischief Like All Kids, According To The Queen
Prince George and Princess Charlotte are known for leaving something of an impression on the people around them. And not just because they're adorable and perpetually dressed as though they've sprung forth from a live-action Beatrix Potter film. It seems the young royals, who are about to become a big brother and big sister any day now, like to get into hi-jinx every now and again. Which we have on good authority from the Queen of England herself. Apparently, Prince George and Princess Charlotte get into mischief like all kids, except if they goof off, it's in a castle and not in the middle of a Chuck 'E Cheese. So really, it's sort of worse.
The 91-year-old reigning monarch, who appears to remain as sharp as a tack, admitted during the taping of a documentary she's filming that her great-grandchildren have been known to ruffle a few feathers in the royal household. Particularly around Christmas. The queen spoke to Sir David Attenborough during a walk through the gardens at Buckingham Palace last summer as the pair filmed The Queen's Green Planet. This is a documentary which follows the progress of the The Queen's Green Canopy, a forest conservation initiative spreading across all 53 Commonwealth countries meant to preserve natural habitats for future generations.
Including her cheeky great-grandchildren, Prince George and Princess Charlotte.
According to the queen, as Metro reported, the little ones get a bit handsy with the Christmas tree at the royal family's Norfolk Estate, where they traditionally spend their holidays. During filming she spoke to senior castle attendant Neil Turner about the tremendous amount of care that goes into decorating the official Christmas tree. She responded, according to Yahoo!:
Yes, that is always the problem, is the children love knocking those [decorations] off. Well my great-grandchildren do, anyway they enjoy themselves.
The queen continued, according to Yahoo!, that a solution was found to remedy the situation of her great-grandchildren knocking (probably incredibly expensive) ornaments off the tree; put them to work:
Well my great-grandchildren do, anyway they enjoy themselves. And the great thing is to make them decorate it and they're a bit more careful. It always looks jolly.
It sounds like a crisis averted. Which must come as a relief to the Duchess of Cambridge, now that she and her husband, Prince William, are mere days away from welcoming their third child, she really can't be expected to execute her tried-and-true form of discipline; the crouch and scold method.
This isn't the first time the queen has spoken publicly about her great-grandchildren, which seems to be a new trend for a monarch who was rather well-known for being careful about public displays of emotion.
When Queen Elizabeth II was handing over a signed Bible to 10-year-old Emily Clay in January as part of a prize, she asked the little girl if she looked after her little sister, according to Town & Country magazine. Clay's mother piped in and said, "It's the other way around," according to Town & Country. To which the queen replied, "It's like that with George and Charlotte."
In other words, it looks like 2-year-old Princess Charlotte might rule over her 4-year-old brother. Which confirms pretty much everyone's guess about the two little ones, though it's probably important to remember times change. As evidenced by Queen Elizabeth II, the longest-reigning monarch in the world. After decades of being slightly truculent about sharing too much information with the public, these days she seems to get a kick out of sharing the odd, delightful little tidbit or two about her family. Perhaps because she's finally at a place in her life where she feels she can open up, even just a little. And it's perfectly lovely to see.
Check out Romper's new video series, Bearing The Motherload, where disagreeing parents from different sides of an issue sit down with a mediator and talk about how to support (and not judge) each other's parenting perspectives. New episodes air Mondays on Facebook.