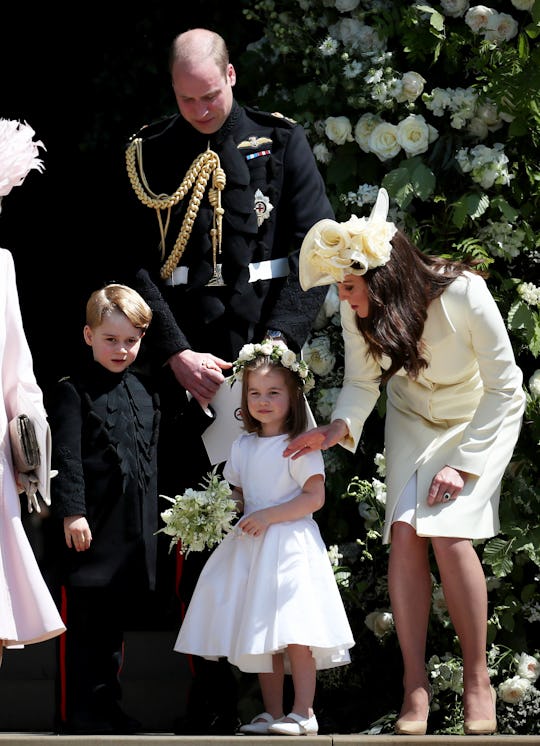 WPA Pool/Getty Images Entertainment/Getty Images
Prince George & Princess Charlotte Are Wedding Pros After They Reprised Their Adorable Roles
While they're certainly not uninvited guests, Britain's adorable mini-royals seem to attend more weddings than Owen Wilson and Vince Vaughn ever did in the movie Wedding Crashers. Indeed, over the weekend, Prince George and Princess Charlotte reprised their adorable roles in a wedding party at Kate Middleton's friend's nuptials.
With Prince George serving as a pageboy and Princess Charlotte in the role of junior bridesmaid, the royals were in nuptial mode once again to be part of Duchess Kate's friend Sophie Carter's big day at St. Andrew's Episcopal Church in Norfolk, England, as People reported. Preschooler Charlotte, 3, wore an ivory linen dress from London children's wear designer Amaia, while elementary-school student George, 5, sported cropped blue trousers, with an off-white linen shirt accessorized with a blue cummerbund, also from Amaia, as People detailed. So cute!
If you need a visual, you can check out an example of Prince George and Princess Charlotte's outfits shared by royal commentator Omid Scobie on Twitter on Sunday morning.
And here's a glimpse of Princess Charlotte in her ensemble...
...and Prince George in his.
You might recall that Prince George and Princess Charlotte had similar roles in Auntie Pippa Middleton's wedding, as Harper's Bazaar reported, and 2018 has been a banner year for wedding action for the kids, as they got to walk the aisle at their uncle Prince Harry's marriage to Meghan Markle in spring, according to the BBC.
WPA Pool/Getty Images Entertainment/Getty Images
WPA Pool/Getty Images Entertainment/Getty Images
WPA Pool/Getty Images Entertainment/Getty Images
WPA Pool/Getty Images Entertainment/Getty Images
And next month, the dynamic royal duo are expected to be on duty again at Princess Eugenie's wedding to Jack Brooksbank, according to Harper's Bazaar. Can you imagine how cute they'll be then?!
The young royals' appearance this weekend makes sense when you consider, as People previously reported, that bride Sophie Carter is one of Duchess Kate's close friends and a godparent to Princess Charlotte. (Carter also attended Pippa's wedding and grew up near Kate and William's country home in Norfolk, according to ABC News.)
For all their wedding finesse and finery, however, the Duke and Duchess of Cambridge's kids aren't always so picture-perfect that they don't occasionally act like normal kids. For instance, at Pippa's wedding to James Matthews in Berkshire, England, as Vogue noted at the time, it fell to Duchess Kate to make sure the little bridal attendants were quiet as they entered their church, and her brief-but-strict "shush" made moms the world over relate, as Vogue joked.
As everyone's probably noticed in their own lives, weddings go in cycles in groups of friends. My bigger kids were in a bunch of ceremonies and got used to spending weekends getting dressed up and posing for pictures, and they have fond memories of their days scattering flowers from little baskets. We seem to be done with all for the moment, but I would love another round of festivities.
Weddings bring out the best in everyone (well, ideally) and the royal children will hopefully grow up to have great memories of being part of other so many people's life-changing celebrations. And, in a few years, Duchess Kate may just have enough fancy outfits to open her own bridal consignment shop...