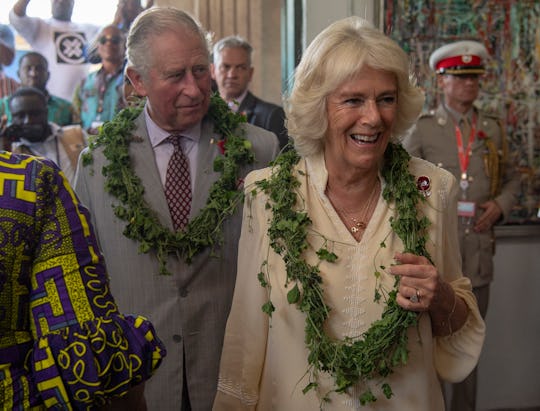 Pool/Getty Images Entertainment/Getty Images
What Prince George & Princess Charlotte Call Prince Charles Is Actually So Cute
Prince Charles might be next in line to sit on the throne of England, but he's also a dad and a grandfather. And while he might not be one of those grandfathers who carries on in public and makes a big fuss about the grandkids (he is British royalty, after all), make no mistake; he apparently has a loving relationship with his three grandchildren. In fact, Prince George and Princess Charlotte have a special name for their grandfather, setting the tone for their baby brother Prince Louis and their new cousin on its way.
The future King of England is lucky enough to have three of the cutest little grandchildren you've ever seen: 5-year-old Prince George, 3-year-old Princess Charlotte, and 6-month-old Prince Louis. They're the children of Prince Charles' oldest son Prince William and his wife Kate Middleton, of course, and we all now know that his youngest son Prince Harry is expecting his first child with wife Meghan Markle in the spring. It's exciting times for Prince Charles and his family as they settle in to make memories with the kids. But what sort of memories will they make? What kind of relationship does Prince Charles have with his grandchildren? I mean, what do they even call him? Your Royal Highness?
Apparently they're not quite that formal, which is good because I don't see feisty little Princess Charlotte going in for all that formality. The Daily Mail reports that Prince George and Princess Charlotte call their grandfather "Grandpa Wales," which might sound a little formal unless you know the history. First of all, Prince Charles is the Prince of Wales so that makes sense. And apparently Queen Elizabeth called her grandfather, King George V, "Grandpa England." And now imagine hearing really cute kids with fancy British accents saying these things. It's way more adorable that way.
Prince Charles himself had a very close relationship to his own grandmother, Queen Elizabeth's mother, whom he reportedly went to many times for advice and comfort over the years. It stands to reason that he would want a similar sort of loving relationship with his own grandchildren.
In fact, Prince Charles might be more of a regular kind of grandpa than people think. When Clarence House recently shared a video of the prince discussing his upcoming trip to Gambia, as reported by People, it was hard not to notice a little framed photo in the background featuring all three of his grandchildren at Prince Louis' spring christening.
If the children call Prince Charles "Grandpa Wales," then what do they call his wife Camilla Parker Bowles and their great grandmother, Queen Elizabeth? As Good Housekeeping reports, they keep things slightly less formal in those cases. Prince George and Princess Charlotte call Parker Bowles "Ga-Ga" and they call Her Majesty the Queen of England "Gan-Gan." Which is pretty hilarious and adorable.
It's nice to know that the royal family seems to stay pretty close and connected, especially to the younger generation. Because grandkids are supposed to be loads of fun, and Prince Charles sometimes looks like he could use a laugh if you ask me.