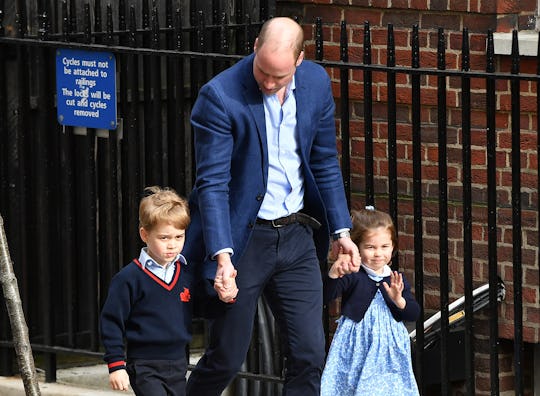 Gareth Cattermole/Getty Images Entertainment/Getty Images
Prince George & Princess Charlotte Back-To-School Routine Is Surprisingly Normal
It's hard to picture what sort of routines the royal kids have in their lives. I mean, they spend a whole lot of time living in Kensington Palace, their dad Prince William is probably going to be a king some day and their grandmother is already a queen. So it's hard to picture them eating Pop Tarts for breakfast while their mom Kate Middleton does a mad dash around the house looking for matching socks and backpacks on school mornings. But you know what? That might not be *that* far from their reality. Prince George and Princess Charlotte's back-to-school routine is surprisingly normal. Although I have yet to receive confirmation that they eat Pop Tarts, I truly hope they do because that would be amazing.
The Duke and Duchess of Cambridge's two oldest kids, 5-year-old Prince George and 3-year-old Princess Charlotte, are now back at school like most kids. Little George goes to Thomas's Battesea in south London while Charlotte attends Willicock's Nursery School in Kensington. There are clearly going to be some differences in the way that the two older royal children go about their school routine (for instance, they both have security detail which is generally pretty unusual) but their parents are reportedly both insistent that their lives be as normal as possible.
A palace source recently told Us Weekly that keeping the children's routine normal and regular is of vital importance to both of their parents:
William and Kate very much prioritize bringing up the children in as normal an environment as possible over anything else. They haven't lost sight of that.
So what does "normal" look like to the royal family? I'm happy to report that it looks incredibly similar to many parents; Kate Middleton and Prince William take turns with school drop-off duties in the morning. While one is driving Prince George to school the other will be walking Princess Charlotte to nursery school and vice versa. The school drop off is clearly something that means a lot to Kate Middleton; the day after she gave birth to the couple's third child, Prince Louis, on April 23 she reportedly took Prince George to school, according to Harper's Bazaar. She missed his first day at Thomas's Battersea because she had terrible morning sickness, so it makes sense that she wanted to be there for her first born whenever she could be.
Fortunately Prince William was on hand to take his son to school.
Beyond taking their kids to school themselves, the two royal parents want to make sure they are on hand for even that most tedious of milestones... back-to-school shopping. After the family spent some time together on holiday this summer, Middleton reportedly took Prince George and Princess Charlotte out to buy them shoes for the fall. And just to provide further proof that she's a normal mom, Middleton apparently brought the kids in sandals and had to borrow socks from the store so the kids could try on shoes, according to The Mirror.
I mean, she has been pretty busy, guys, what with welcoming a new baby in April and all. Let's give her a break.
Sure, Middleton might have help at home from a nanny, but she's a hands-on mom who clearly revels in raising her kids her own way. Whether she's at Kensington Palace or at the family's weekend home, Amner Hall, in Norfolk. A 2017 report by People noted that Middleton is always cooking for her kids, playing with them outside, reading to them... you know, being their mom.
Because as much as Middleton might enjoy her official role as the Duchess of Cambridge, I think she enjoys her role as mom to George, Charlotte, and Louis best of all.