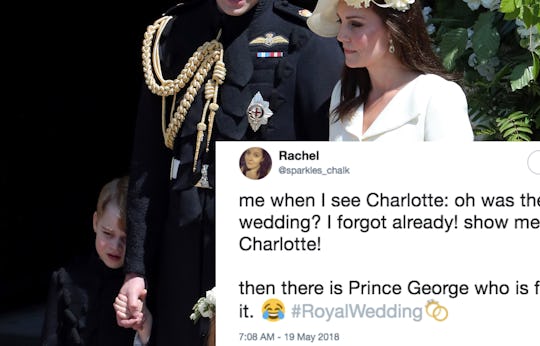 WPA Pool/Getty Images Entertainment/Getty Images
Apparently Prince George Just *Really* Wanted A Nap At The Royal Wedding
Weddings are not exactly the easiest place to bring kids, and they definitely aren't the easiest events to have kids actually participate in. While Princess Charlotte and Prince George were both involved in their uncle Prince Harry's wedding, it looks like Charlotte, as usual, was much more enthusiastic than her older brother. In fact, it looks like Prince George wanted a nap at the royal wedding and you know, I kind of can't blame him.
Despite the early wake-up call here in the United States, the royal wedding didn't actually take place until 12 p.m. at St George's Chapel. But as anyone who's been a part of a wedding can tell you, the preparation starts days ahead. Honestly, by the time your wedding day comes along, you're absolutely exhausted from all the work leading to that moment, all of the events, and the nerves. Pack all of that energy into a 4-year-old, and you're bound to run into a bit of a rut. Poor Prince George not only had to deal with the upheaval of wedding preparations in his family's life, but as one of Prince Harry and Meghan Markle's page boys, he had to get up early, get ready for the day, and deal with a lot of sitting around and waiting. For a 4-year-old, that's quite the afternoon. (Honestly, I just watched it on TV and I'm exhausted.)
This isn't the first time Prince George has been a little less than enthusiastic about his role in a wedding. Back in May of last year, the then-3-year-old served as page boy in his Aunt Pippa Middleton's wedding and was spotted crying outside of the church. Apparently he was curiously playing with Pippa's dress right before her big exit, and Kate, Duchess of Cambridge, had to pull him aside for a little scolding, reported People. I mean, wedding traditions are open to be changed, but messing with the bride's dress? Not a really great look, sweet Georgie.
But hey, weddings are a big deal and all of the royal traditions and the long procession, ceremony, songs, and readings can take its toll on anyone. George was one of several little page boys and flower girls in his Uncle Harry's wedding, so the fact that he had to stay with the group, be in a probably-not-that-comfortable outfit, be separated from his parents, and keep quiet is a lot to ask of him. I mean, seriously — I know several adults who could not handle that kind of responsibility.
Luckily, it looks like Prince George can always rely on his little sister Princess Charlotte to pick up all of the enthusiastic waving and smiling duties. Outside of the chapel, after the ceremony, Charlotte eagerly waved to her Uncle Harry and new Auntie Meghan and wasn't shy at all about the people watching her or the cameras. George tucked into his father's pants, giving a half-hearted wave and looking like he could really use a couch and some Netflix. Same, kid. Same.
Honestly, it reminds me of how he reacted to the cameras when his baby brother Prince Louis was born. Less than a month ago, as his father, Prince William, brought George and Charlotte to the Lindo Wing to visit the newest member of the Cambridge family, Charlotte showed off her waving skills again as George looked a little less enthused. He seems like such a lovely boy, but it's pretty obvious at this point that crowds and big events aren't always his favorite thing — like any 4-year-old would be. I mean, my kid acts like she's running for mayor most of the time, but even she can let fatigue make her less excited about a crowd of people. Don't worry, George. You probably fell asleep in the car on the way to the reception and should get plenty of Zs this afternoon.