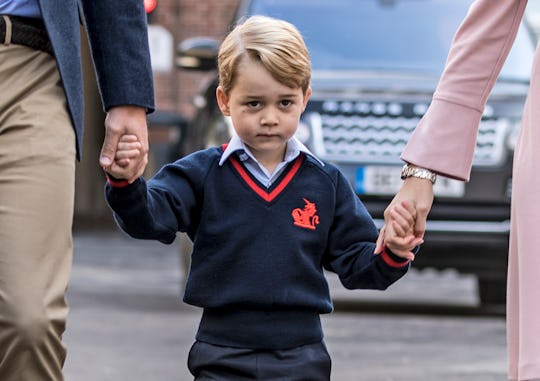 WPA Pool/Getty Images Entertainment/Getty Images
Prince George's Back-To-School Photos Over The Years Are Just Too Adorable For Words
Young Prince George Cambridge sounds like he's having a pretty cool summer. His madcap adventures began when he was asked to be a page boy at his uncle Harry's wedding to Meghan Markle this past May, which meant he finally got to wear long pants. I'm sure that felt cool. Then his parents reportedly whisked him and his little sister and brother off to the island of Mustique for a family holiday in the Caribbean. Next, he's said to be off to Scotland to visit the Queen for a spell. But all great adventures end, so let's look at Prince George's back-to-school photos to remind us what's coming round the pike for the future King of England.
Prince George is only 5 years old, which means he's still pretty new when it comes to going to school. He's probably still at that stage when it's exciting to go to class and make new friends, especially since his life as a member of the British monarchy comes with certain social limitations. I have no way of knowing for certain, but I would imagine donning his school uniform of cardigan, shorts, socks, and button-down shirt, which is all worn by the other children as well, to attend Thomas' Battersea School in London might feel kind of nice. To be one of the crowd instead of the center of attention.
Although, check him out in his official school photo from September 2017. Standing there with one hand in his pocket and the other one holding his dad, Prince William's hand. All cute and smiley. How could this kid ever not be the center of attention?
Although that being said, going to school can be pretty darn nerve-wracking when you're not really accustomed to it. Especially if you're something of a shy kid, which Prince George certainly seems to be. I'm sure we all remember photos of him being taken to his first day of school at Thomas' Battersea in London by his father last September, when his mom Kate Middleton was unfortunately too ill with morning sickness to bring him herself, according to E! News. He did not exactly look pumped at the prospect.
Even when Prince George met his teacher, Helen Haslam, according to the Daily Star, he was giving her the eye. Like, crouch down to my level all you want, ma'am, but I'm still not smiling.
Prince George probably warmed up to his time at Thomas' Battersea, and I bet the menu didn't hurt a bit. The swanky school works on a three-week menu cycle, and includes things like authentic French coq au vin, fresh Margherita pizza, and obviously, fragrant lamb prepared with an apricot tagine, according to the school's website. So, not so much with the dino nuggets and juice boxes, I suppose.
Thomas' Battersea is technically Prince George's second foray into school. He first attended nursery school in Norfolk, the Westacre Montessori School, according to USA Today, when he was not quite 3. And if you thought his other picture was cute... prepare yourself for Prince George in a tiny backpack.
By the way, Kate Middleton took this picture, as Kensington Palace shared in the photo's caption. And if she wasn't busy being a duchess, she could easily make a living as a portrait photographer.
When Prince George's summer holidays finally come to an end and it's time for him to go to school again, this will actually be his third year doing so. I bet he'll be a pro. And after a summer spent with his 3-year-old sister Princess Charlotte (who has a bit of a reputation for being bossy) and his baby brother Prince Louis, little Prince George might be ready to hang out with some kids his own age. To play outside with all the other kids and kinda/sorta blend in.
Plus, I bet he's one of those kids who kind of loves it when other kids get into mischief. So the new school year should provide him with loads of opportunity.