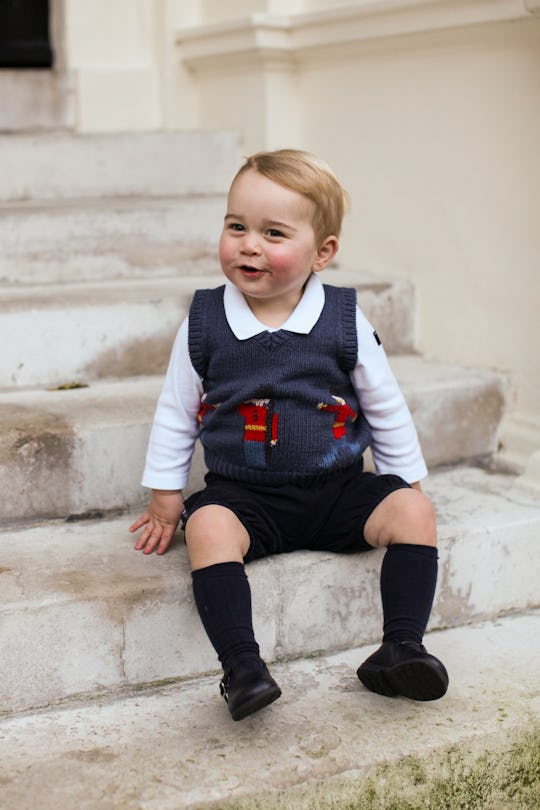 Handout/Getty Images Entertainment/Getty Images
Prince George's Birth Story Will Make You Feel *So* Nostalgic
It's hard to believe there was ever a time when Prince George wasn't around to amaze us all with his pinchable cheeks and endearing grin. But it really hasn't been that long when you think about it. The oldest son of the Duchess of Cambridge and Prince William, heir to the British throne, was born on July 22, 2013. And the world became a better place for it. As Kate Middleton gets ready to bring a third royal child into the household, it's making everyone get all nostalgic. So let's reminisce about Prince George's birth story and get all weepy about how time flies and how they grow up so fast and all of that stuff.
When Prince George was born at St. Mary's Hospital in Paddington, Westminster, he weighed in at a perfectly healthy 8 pounds and 6 ounces, according to the BBC. In the past, it's been something of a royal tradition for the fathers of the new babies to make themselves scarce when their progeny come into the world. For instance, Prince George's great-grandfather, Prince Phillip, was reportedly playing squash somewhere in Buckingham Palace when his wife Queen Elizabeth II was giving birth to their oldest son, Prince Charles. But when Prince George was born, his father decided not to stand on royal tradition. He was in the room with his wife as she gave birth to their first child.
To be fair, Prince William's father, Prince Charles, was in the room when he was delivered in 1982, so precedent had been set. But still, the birth of Prince George did appear to spark an entirely wonderful new tradition; that of an informal, protective-looking Prince William standing watch over his wife and son. Now let's all melt together.
At the time, Buckingham Palace chose to announce the birth of the young George Alexander Louis Cambridge two ways, one of which was steeped in years of tradition and the other a nod to the changing ways of the modern world. A press release was issued not just to the hundreds of members of the press encamped outside St. Mary's Hospital, but also across all social media channels. It read in part:
The Duchess of Cambridge was safely delivered of a son at 4.24pm. The baby weighs 8lbs 6oz. The Duke of Cambridge was present for the birth … Her Royal Highness and her child are both doing well and will remain in hospital overnight.
I'm disappointed in this announcement. There are no details about Middleton's birth plan, no nods to the tiny prince's level of cuteness. But I guess this is the way things are done with the royals.
Of course Queen Elizabeth herself was notified of Prince George's birth before the press was, this is protocol. Prince William reportedly called his grandmother himself to tell her the baby had been born. Once the queen has been informed, the doctor who delivered the prince signs a piece of paper (although it's important to note that midwives are generally present at a royal birth) that is driven to Buckingham Palace and placed in a golden easel.
Prince George was born on the hottest days on record in seven years, according to the BBC, and hundreds of sweating reporters and well-wishers spent hours in the sun outside St. Mary's Hospital waiting for news of the birth. The palace announced that the Duchess of Cambridge was in labor in the early hours of Monday morning, but she did not give birth until late afternoon. She reportedly had a "straightforward birth" with "no complications and no epidural," according to a report by Vanity Fair.
After mother and son were discharged from the hospital, Prince William, Kate Middleton, and Prince George spent a few weeks at her parents' home in Bucklebury, about 50 miles outside of London, according to The Global Mail. Prince William took two weeks of paternity leave, according to the New York Post, and the couple eventually made their way back to Kensington Palace.
In other words, Kate Middleton and Prince William managed to bring their son into the world in a way that honored their own wishes and tradition at the same time. Sure, they phoned the queen and made an official announcement. But, according to PopSugar, Kate Middleton also reportedly had her security detail pick up pizza from a place around the corner from the hospital after laboring for 11 hours.
And if that doesn't make you love her, I just don't know what will.
Check out Romper's new video series, Bearing The Motherload, where disagreeing parents from different sides of an issue sit down with a mediator and talk about how to support (and not judge) each other's parenting perspectives. New episodes air Mondays on Facebook.