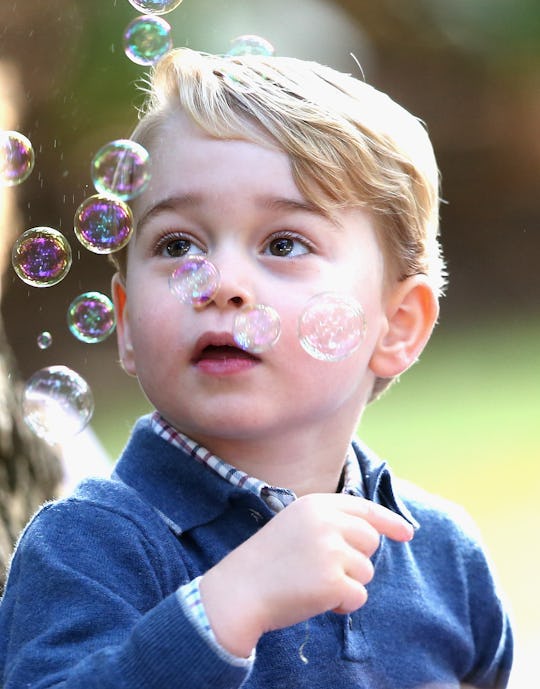 Chris Jackson/Getty Images Entertainment/Getty Images
Here's A Look Back At The Birthday Gifts Prince George Has Gotten Over The Years
A "Happy Birthday" is in order for Prince George, aka the little boy third in line to inherit the British royal throne some day in the future. But before he can do that, Prince George has to celebrate quite a few more birthdays, and on Sunday, July 22, the young royal celebrated turning 5. Being a part of royalty has its perks, indeed, something that Prince George's birthday presents over the years definitely highlights.
It must be nice to be Prince George. The little boy reportedly spent his fifth birthday on vacation with his mom, Kate Middleton, dad, Prince William, and siblings, Princess Charlotte and Prince Louis, on the island of Mustique, according to Vanity Fair. Although not many 5-year-olds get to spend their birthday on a private island, Prince George has celebrated his special day in the past with themed birthday parties complete with cake and presents, just like every other kid his age.
There are so many moments that kids look forward to during their birthday parties and, let's be real, most kids Prince George's age look forward to eating their cake and opening presents. And Prince George's birthday presents throughout the years show that he has had a lot of good birthdays — even if some of his presents aren't entirely clear.
From This Special Rule On His First Birthday
Ahead of his first birthday on July 22, 2014, Prince George's parents reportedly asked well-wishers, royal watchers, along with friends, and family members to not send Prince George birthday gifts, according to the Telegraph. Even before Prince George turned 1, according to the Telegraph, Prince George had received gifts from 48 countries, and had several animals in different countries named after him and "given" to him — like a crocodile gifted to him from the chief minister of Australia's northern territory and three meerkats adopted on his behalf in the West Midlands.
Although he might not have received any personal gifts from family and friends, the little boy had received plenty throughout his first year of life, according to the Telegraph.
To Receiving A "Haul" On His Second Birthday
After his parents asked party guests and well-wishers to not give Prince George any gifts on his first birthday, they reportedly sang a different tune for Prince George's second birthday. Although Prince George reportedly had a "quiet" second birthday party spent at his family's home in Norfolk, according to Vanity Fair, on the day of his party a postman was spotted "delivering a haul of cards and presents to the home."
That year Prince George also reportedly received a "cottage on wheels" complete with a wood burning stove and a day bed for him to play with when he visited his family's Highgrove estate, according to the Telegraph. In addition, Prince George's grandfather, Prince Charles, also refurbished a tree house on his property in honor of Prince George turning 2, according to the Telegraph.
To Being "Spoiled" On His Third Birthday
After Prince George turned 3 in 2016, his father wasn't too pleased with the amount of gifts that his son received that year, according to Harper's Bazaar. A few days after Prince George's birthday, Prince William was a little shy when it came to admitting how many gifts his son received for his birthday. Prince William said, according to Harper's Bazaar:
I am not telling. He got too many things, he's far too spoilt.
I guess royal watchers will never know about all of those "many things" he received for his birthday.
& Receiving Cake On His Fourth Birthday
After his dad refused to talk about his presents the year before, the details about Prince George's presents on his fourth birthday were just as vague. Although there were not many details from Prince George's birthday were released, during an official appearance before Prince George's birthday, Prince William made it clear that Prince George had other things on his mind. Prince William said, according to ABC News:
George has got a big tummy. He'll probably end up eating all his cake himself.
Who needs presents when you have an entire birthday cake to eat?
With The Best Present Of All On His Fifth Birthday
For his fifth birthday, Prince George received one very special gift, according to People. In honor of him turning 5, the Royal Mint issued a commemorative £5 coin, according to People, featuring an image of St. George, the patron saint of England and a dragon.
What an incredibly special present for a very special boy. Happy birthday, Prince George!