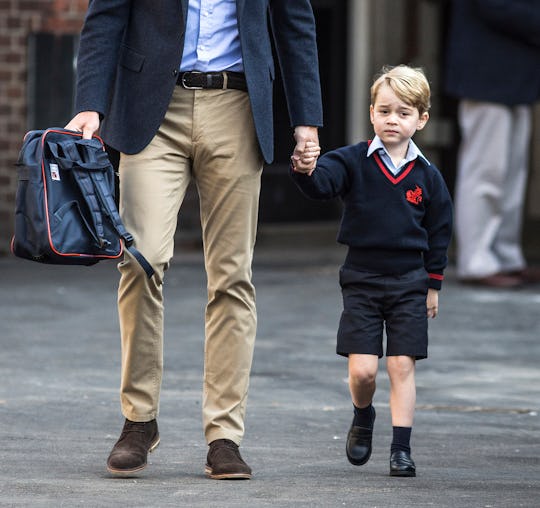 WPA Pool/Getty Images Entertainment/Getty Images
The Sweet Reason Prince George's First Day Of School Could Be Even More Exciting This Year
Heading back to school is one of the most exciting times for children all over the world, including the smallest members of the royal family. This September, Prince George will be heading back to school, which is sure to be very exciting for his parents and royal watchers alike. But, according to People, Prince George's first day of school will be different this year for one super sweet reason.
Any Prince George sighting is a good Prince George sighting. When the little royal does make an official appearance with his family, people can't seem to get enough of his very proper (and adorable) attire and his super sweet personality. The good news is, the 5-year-old is about to make his next public appearance very soon, according to People, when he heads off for his first day of school in the next few weeks.
Last year, for his first day of school at Thomas' Battersea in London, Prince George looked "unfazed" as he walked towards his school with his dad, Prince William, and shook hands with the head of the lower school according, to CNN. This year, things might be a little different.
Prince George will have his first day of school on Sept. 6, and when he makes his way to school, he will reportedly have his dad and his mom, Kate Middleton, by his side, according to People.
Last year, Middleton was absent from these first day of school photos for one very good reason — she was pregnant with her third child, Prince Louis, at the time. Just days before Prince George's first day of school last Sept. 7, Kensington Palace announced on Sept. 4 that Middleton was expecting her third child, according to The Cut. As with her previous pregnancies, Middleton had been suffering from hyperemesis gravidarum during her third pregnancy, according to Forbes, or severe morning sickness, which didn't allow for her to do a lot of moving around. As such, Middleton was unable to take her son to his first day of school last year, according to People.
But one year later, Prince Louis is now 3 months old, according to The Sun, and Middleton is now free of morning sickness. With her feeling better than ever, it is super likely that Middleton will be making an appearance with her husband to escort their oldest child to his first day of school.
But just because Prince George has to go to school doesn't mean he necessarily enjoys it. A few weeks after Prince George's first day of school last year, Prince William reportedly told a fellow parent during an official royal appearance that Prince George was having a hard time adjusting to school, according to the Telegraph. "I just dropped George off and he didn't want to go," Prince William said, according to the Telegraph.
But there was no reason for Prince George to not want to go to school. At his school, he doesn't get special treatment, according to People, and is treated just like every other student. His school has "the best English education that money can buy," according to TIME, so he is in great hands.
Although Prince George was a little apprehensive about going to school in 2017, a lot can change in a year. So, Prince George might have changed his mind about this whole school thing since then. And it's possible that his mom's presence on the first day of school will make him look a little less "unfazed" this year.
Whatever the case may be, royal watchers will be able to see how Prince George feels when he returns to school in just a matter of weeks.