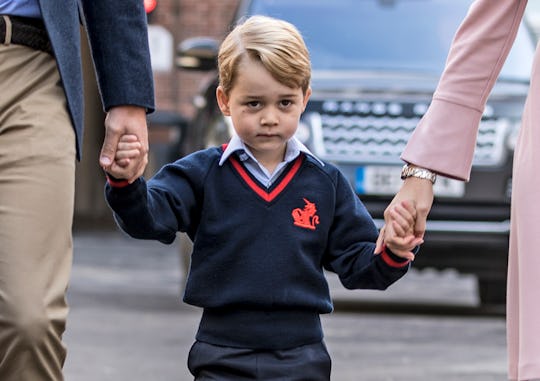 WPA Pool/Getty Images Entertainment/Getty Images
Prince George Will Be Hitting The Books Again Before You Know It
Time to break out those yellow pencils! With fall almost here, kids in the United States (and their parents, of course) are getting ready to head back to school. But what about the heir to England's throne? For example, across the pond, when does Prince George start the school year?
As noted on the website for London's posh prep school, Thomas' Battersea, where Kate Middleton and Prince William's oldest begun his elementary-school years last fall, it's back to the books on Sept. 6 for the now 5-year-old royal. While many American kids will have already adjusted to their new teachers and taken their first three-day weekend for Labor Day by then, the Cambridges will just be getting lunchboxes, school supplies, and school uniforms ready.
After taking a lovely summer break that reportedly included time in the country and a Caribbean retreat with Duchess Kate's parents, according to Harper's Bazaar, the royal family will soon be back in drop-off mode in the mornings come this fall. Only this time, they'll dropping off at two schools now that Princess Charlotte goes to her very own preschool, Willcocks Nursery School in Kensington, a stone's throw away from Kensington Palace.
Although the start of a new academic year is always slightly rough — between kids having to adjust to a new teacher, a new classroom, and a different blending of kids from last year's class — Prince William and Duchess Kate are lucky in that both their bigger kids started at new institutions last year, so going back to the same places this fall will hopefully be a breeze.
At the moment, the royals are said to be at Anmer Hall in Norfolk, England, for the rest of their summer holiday, according to Hello! Magazine. Royal watchers will recall that Prince William and Duchess Kate's country residence was actually Prince George's first home, also according to Hello! Magazine, before moving to London and into Kensington Palace.
Not only do the royals love the country as Hello! Magazine explained, but, as People reported, in late summer visitors are heavily in force in London, so this allows the royal family to avoid the tourist rush. Hello! Magazine added that Anmer Hall has chickens on the property to amuse the kids and enforces a no-fly zone, meaning that paparazzi can't hover by air and snap photos. According to People, Prince William and Duchess Kate may also be expected to pop in on the Queen at her castle in Scotland before the end of summer.
Once the family is back at home in the capital for the fall, Prince George will resume a curriculum at Thomas's Battersea that includes options like ballet, pottery and science lab, topped off with freshly-cooked organic lunches and the option to play on a whopping once-acre Astroturf playground, according to The Guardian. And if you're hoping to enroll your own kid at the same school, the publication quoted Tatler magazine as advising parents to put their children's names on the popular school's list at birth.
Princess Charlotte, meanwhile, is expected to go back to Willcocks with the opportunity to take French and music, according to Business Insider. Of course, there's no way to tell what her first day of school attire will be, but it's sure to be just as adorable as that red coat and red Mary Jane's combo she wore to start the last school year. And, as she so often does, mama Kate Middleton will likely take her own pics of her kids' first days back to school.
With little Prince Louis almost 4 months old, as the Express reported at the time of the baby's christening last month, it's full-steam ahead for the family to resume more royal duties in the coming months, with Prince William marking the 100th anniversary of World War I's end this past week, as Kensington Place shared on Twitter. Meanwhile, Duchess Kate, technically on maternity leave, will no doubt take up her usual fast pace of royal engagements and appearances when she's ready; luckily, there's a whole new royal to fill in, with Meghan Markle raising awareness for HIV alongside Prince Harry, as the palace noted on Twitter recently.
Watching the royal family thrive and grow is just so fascinating, and here's to wishing them all the best juggling two school schedules, a newborn, and, sure, representing the whole United Kingdom. Hey, that's not too much for such multitaskers as Prince William and Duchess Kate, right?