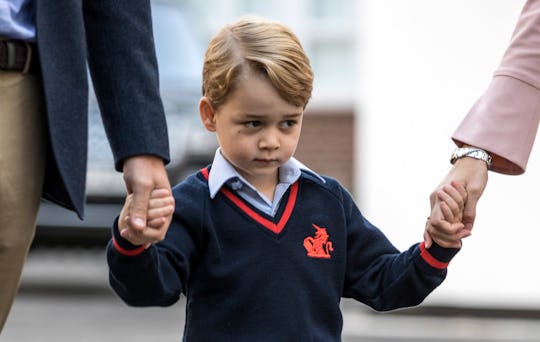 WPA Pool/Getty Images Entertainment/Getty Images
Prince George's Net Worth Will Make You Wonder What You're Doing With Your Life
As a member of the British royal family, Prince George leads a life full of perks mere commoners like myself will never have the pleasure of knowing. One of those perks is being born with an impressive amount of money in the bank, and it turns out Prince George's net worth is much higher than many Americans will ever achieve in their lifetime. Yep, a 4-year-old is more successful than many of us could ever hope to be. Happy Monday.
According to Marie Claire UK, Prince George is worth about $2.4 billion, which is an inconceivable amount of money to your average person. Prince George, however, is anything but ordinary (please checkout his school lunch menu for further evidence), and it's not too shocking that his piggy bank is popping, especially when you consider his parents, Kate Middleton and Prince William are also impossibly wealthy. According to the Richest, Prince William boasts a net worth of $40 million while Middleton has a net worth of about $10 million, according to Celebrity Net Worth. As for Princess Charlotte, she's leading the pack with an almost unbelievable net worth of $3 billion, according to MSN.
If you're wondering how it's possible for Prince George and Princess Charlotte to have such high net worths, you're not alone. Although Prince George and Princess Charlotte's impressive lineage plays a role in their net worths, it really boils down to the royal kids' marketability. Each time Prince George is photographed wearing a piece of clothing, for example, people will go out and purchase that piece of clothing, a phenomenon that has been dubbed the "Prince George effect," according to the Daily Mail . Most recently, Vogue reported that Prince George inadvertently increased the demand for french lentils, after it was revealed that lentils were one of the items offered on his school lunch menu.
Antoine Wassner, chairman of a lentil merchant in Le Puy-en-Velay in central France, said, according toVogue:
It's the star effect you get as soon as a VIP is seen with a product. We have been getting a lot of orders . . . notably from restaurants.
If the lentils anecdote isn't impressive enough for you, in 2016, Prince George caused a $39 bathrobe to sell out. Hmm, Prince George's inclusion in GQ's 50 Best Dressed Men in Britain 2015 is starting to make more sense now... Prince George is a total trendsetter.
According to E! Online, the "white and blue trimmed gingham bathrobe and a pair of navy velvet slippers" Prince George wore while meeting President Barack Obama and First Lady Michelle Obama Michelle Obama quickly sold out after he was photographed donning the ensemble.
In short, Prince George's marketability is worth a lot of money, especially when you combine it with all of the wealth he'll inherit one day.
But wait, why is Princess Charlotte's net worth higher than Prince George's?
Brand Finance's marketing and communications director Robert Haigh, explained, according to Marie Claire U.K.:
This is actually as simple as the relative size of the men's and women's fashion markets, by which I mean that Charlotte's endorsement effect will likely be felt across a much broader range of products and brands or types of clothing than will George's, allowing a greater scope for the monetization of her 'brand' and hence a higher value.
Well, I guess that makes sense.
The "Prince George Effect" aside, it's important to note here that Prince George doesn't have $2.4 billion sitting the bank — his high net worth speaks more to his economic value as opposed to cold hard cash. Although it's neat that Prince George is such an influencer, it's a lot of pressure for a kid to handle, especially when he becomes fully conscious of his economic power. Either way, Prince George will never worry about paying off a mountain of student loans, so that's a definite plus. Enjoy, George.
Watch Romper's new video series, Romper's DoulaDiaries:
Check out the entire Romper's Doula Diaries series and other videos on Facebook and the Bustle app across Apple TV, Roku, and Amazon Fire TV.