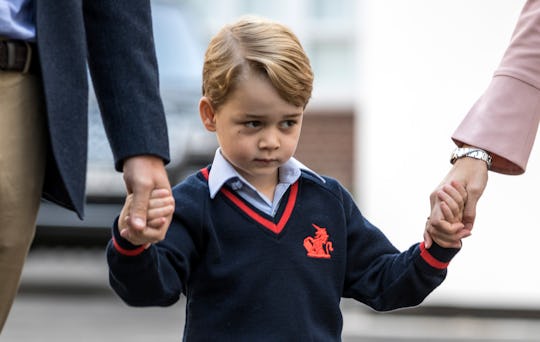 WPA Pool/Getty Images Entertainment/Getty Images
This Is What Prince George Eats For School Lunch & No, It's Not Chicken Nuggets
So what did you have to eat on your first day of school? Here is my educated guess; some form of sandwich (if you're lucky it wasn't tuna salad; everyone hates you if you bring tuna salad), apples, carrot sticks, or a banana? Maybe a drink and a cookie if you're lucky? If you had a cafeteria, I really hope you got some dino nuggets. With a side packet of plum sauce, the kind where plums are never listed as an ingredient. Regular kid things. Not so for young Prince George. The menu for what Prince George eats at school makes me terribly envious as a grown-up lady.
Little George Cambridge, as the 4-year-old future king is known at Thomas's Battersea School in London, won't be bringing a lunch to school. But don't fret for him — he's going to be eating well. Like, really well. Better than any catered event I've probably ever been to, that kind of well. The spring sample menu on Thomas's Battersea's website is full of gorgeous gourmet food. According to catering manager Mark Neuman, meals at the $23,000 per year school move on a three-week rotation and are packed with nutrient-rich foods which also happen to look beautiful:
Each term the catering team develop a range of ideas and dishes with an emphasis on healthy cooking, full flavor and presentation.
For example, according to the website, here is what Prince George could be eating on a Wednesday in spring:
Mid-morning snack: Organic milk or water, and a variety of fresh fruit variety (banana, satsuma, apple)
Soup and bread course: Soup Of The Day, freshly baked organic brown, and a white baguette slice
Protein main course: Freshly prepared Lancashire hotpot
Vegetable: Steamed fine green beans
Carbohydrate: Sautéed potatoes
He could have a little lamb ragout on a different day if he chose, served with garlic and fresh herbs. And if he's not into meat? There's both a fish option (fish pie with a crispy parsnip and celeriac topping) and a vegetarian option (freshly prepared carrot and spinach tarka dal). The school is careful to provide tailor-made options for children with food sensitivities and allergies as well.
Who wants to pop over for lunch tomorrow? I'll start checking flights now.
Now before you go feeling all sorry for Prince George and his utter lack of dino nuggets and macaroni and cheese, I'm happy to report that dessert is on the daily menu. Things like oatmeal raisin cookies with banana milkshakes, fresh baked waffles with fruit and cream, and even Portuguese custard tarts, which are totally unbelievable.
The school goes out of its way to provide the students with food that is not processed or labeled "convenience" food, and varies the menu by season as well. In the hotter months, students can enjoy a lighter menu while the winter months offer a heartier menu. Which I hope includes things like spaghetti... all kids love to eat and mispronounce spaghetti in equal measures.
Prince George, who is big brother to 2-year-old sister Princess Charlotte and has another little sibling on the way (his parents, Prince William and Princess Kate are expecting a third child), is reportedly settling in well at school after having a bout of understandable nerves on his first day, according to his dad. He was fed a hearty and full meal, and was certainly well cared for at his school.
Still, one can't help but wish that he gets to eat a Happy Meal now and again. Just so he can grow up and grow into a refined palette, you know? If he eats fancy foods as a kid, what's he going to eat when he's a grown up king?
Burger King, maybe?
Check out Romper's new video series, Romper's Doula Diaries: