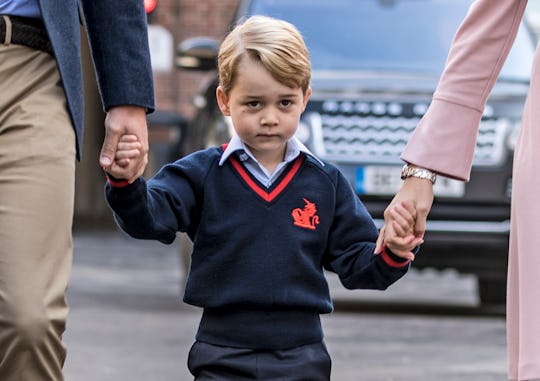 WPA Pool/Getty Images Entertainment/Getty Images
Prince George May Learn Ballet At School This Year & Here's Why That Deserves A "Heck Yeah!"
The royal children are nothing if not fascinating for their choices of extracurricular activities. Watching future world leaders grow up in such extravagant luxury is undeniably interesting, but the true fairy tale is learning that Prince George reportedly has a new hobby come this school year and it's proof the royal family is not one to care about or believe gender stereotypes.
Prince George's new after-school activity, according to Marie Claire, is... ballet lessons. As the magazine reported, Prince George will presumably begin ballet at St. Thomas's Battersea this school year. (Fun fact: The news comes just a few days after word that Princess Charlotte has reportedly taken up horseback riding lessons, something that Town & Country reported has been a lifelong passion for her grandmother, Queen Elizabeth II.)
According to the school's website, students between year 1 and year 8 are eligible for ballet classes. "All Extra Ballet pupils dance in our biannual performances in our own well-equipped theatre," the school's site explained, adding that all participants "undertake annual examinations."
The school's site also notes that it "[arranges] Ballet trips, to theatres and back stage areas" because it "gives the pupils a wonderful opportunity to see the hard work and dedication involved in the life of a professional dancer and to meet the dancers."
The news is significant not only because basically anything the royal kids do is interesting, but because it defies gender stereotypes in a family that is known for upholding tradition. It proves that Prince George's parents, Prince William and Kate Middleton, are open-minded and progressive, and understand the importance of having their son, who is a public figure in his own right, pave the way for a deeper understanding that there are no "girls" and "boys" activities, despite the pervasive cultural belief that there are certain things each gender should and should not do.
In 2013, a researcher named Nadine Holdsworth set out to see what impact boys studying dance would have on their psyches. Her research, which was published in Research in Drama Education: The Journal of Applied Theatre and Performance, found that having young boys practice the arts, and particularly dance, changed the way they viewed the world, others, and themselves. In the study, Holdsworth explained:
"Boys Dancing" has successfully opened up a different lens and set of bodily practices through which young masculinity can be articulated. It has created an environment where the variegated culture of masculinity can find a space of embodiment and questions of emotional risk, perceptions of the body and physical intimacy can be explored in a safe, non-judgmental arena.
Echoing the sentiment, ActiveForLife.com reported that boys who learn ballet actually develop a greater degree of "strength, balance and discipline," explaining that dance often becomes associated with femininity and the perception that it's "easier," when in reality, it requires an enormous amount of physical skill, craftsmanship and strength to perform, regardless of what sex or gender you are.
Additionally, according to Livestrong, it is imperative to "burst" stereotypical gender roles at a young age, with the site suggesting that parents engage children in roleplaying in which boys are encouraged to take on traditional female roles, and vice versa. On top of that, it should be emphasized that there are no activities, skills or interests that are exclusive to one gender or another, which is a message that will undeniably be communicated to every child at some point or another in their upbringing.
It's amazing to hear that Prince George is expected pursue whatever hobby or extracurricular that he wishes, just as his sister Princess Charlotte is as well. Hopefully it's a reminder for parents that kids do not have to adhere to any predetermined, arbitrary subjections as to what they can and cannot do in life.