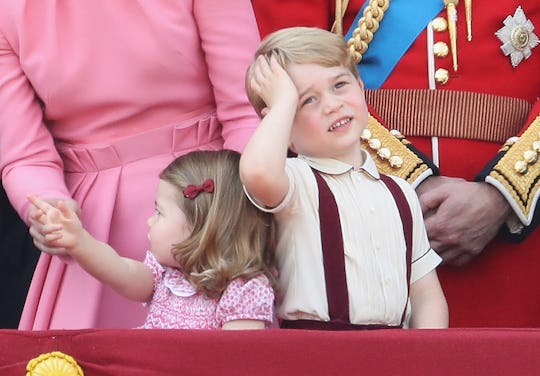 Chris Jackson/Chris Jackson Collection/Getty Images
Prince George's Tour Photos Are So Sassy
It's the middle of summer, so of course that means tons of families across the United Kingdom are "on holiday," as it were — and the British Royal Family is no exception. The Duke and Duchess of Cambridge, William and Catherine, have embarked on a five-day tour of Poland and Germany, with their two children in tow. It's amazing to see how much Princess Charlotte has grown since the family's tour last year in Canada — but it's Prince George's tour photos that are totally the best thing ever about their international royal visit.
Prince George is having quite the week before he turns 4 years old on Saturday. Meanwhile, little sister Princess Charlotte just turned 2 in May. The Royal Family landed in Warsaw, Poland, on Monday. Before anyone even got off the plane, eagle-eyed photographers captured an adorable photo of Prince George and Princess Charlotte with their faces pressed up against one of the airplane windows.
When it was Prince George's turn to get off the plane, however, he had to be reluctantly coaxed out from the comfort of the cabin by dad — and it was all caught on video. What's even more amazing is seeing Prince William and Catherine taking all of it in stride like the awesome parents they are.
It's true that life as a British royal isn't exactly known for its subtlety: There's so much grandeur, pomp, and circumstance to even something as simple as getting off a plane that it's completely understandable that an almost 4-year-old preschooler would take issue. It's just that when Prince George does it, there are also a million cameras on him, and boy howdy, is that child ridiculously photogenic. I mean, seriously: I can't handle this.
That's also what makes a particular moment of Prince William doing the "dad talk" move to comfort his son so sweet: He is fully aware that there is nothing "normal" about being royal, and told GQ in May that he wants his Prince George to have as much of a "normal life" as possible:
I couldn't do my job without the stability of the family. Stability at home is so important to me. I want to bring up my children in a happy, stable, secure world, and that is so important to both of us as parents. I want George to grow up in a real, living environment, I don't want him growing up behind palace walls, he has to be out there. The media make it harder but I will fight for them to have a normal life.
I'm sure Prince George was tired of being cooped up in plane, overdue for a snack, and was totally over every bit of pomp and circumstance that comes with traveling as a Royal Family. Between that pout, the blonde mop, and those shorts and oxfords, Prince George makes the "totally worn out preschooler" look basically the cutest thing ever. Someone get that kid a pierogi and a nap, STAT.