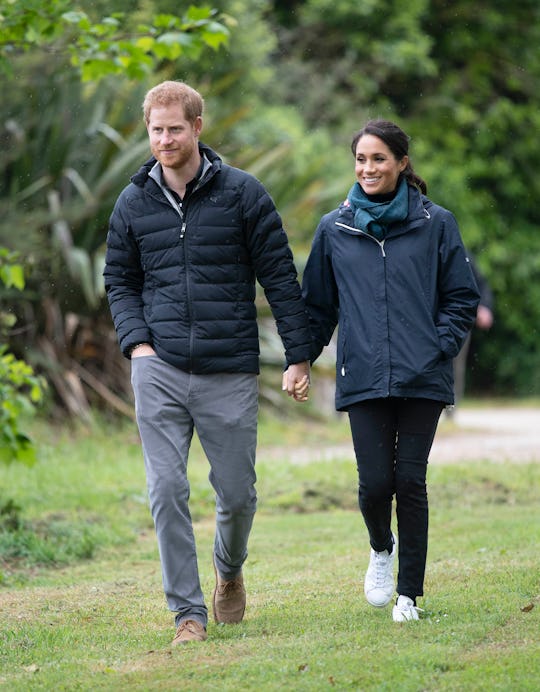 Pool/Getty Images Entertainment/Getty Images
Prince Harry's Sweet Nickname For His Baby-To-Be Proves He'll Be The Cutest Dad Ever
The Duke and Duchess of Sussex will soon be wrapping up their first major overseas tour together, and there has certainly been no shortage of adorable moments. Not only have the newlyweds brought their sweet brand of royal PDA with them down under, but the fact that they are also expecting their first child together has made it seem extra special. But unlike his older brother, dad-of-three Prince William, Prince Harry doesn't seem at all shy about mentioning his growing little one publicly. In fact, Prince Harry called his baby-to-be with Meghan Markle their "little bump," according to People, and it might just be his cutest dad moment yet.
Honestly, as much as the entire world seems to be rejoicing over the news of the newest royal baby, having such a high profile pregnancy must be at least a little awkward. Even though it's obviously very sweet that so many people are excited, the status of Duchess Meghan's uterus is pretty much going to be the focus of the next five or six months, and the couple must be painfully aware that the baby is *really* all anyone actually wants them to discuss.
But by royal standards, Prince Harry has so far been extremely candid, and in New Zealand on Monday, the prince addressed the waiting crowds, according to People, and said: "From myself, my wife and our little bump, we are so grateful to be here." He continued, "We bring blessings from my grandmother the Queen and our family. We are so grateful for your hospitality and the work to look after this beautiful place."
Prince Harry's comment — followed by his grin — is enough to make even the most cynical of hearts melt completely. Yet it's also just the latest sweet gesture from the newlywed prince: not only have Harry and Meghan been photographed gazing lovingly at one another pretty much daily, they've spent much of their time in public holding hands, rubbing each other's backs, and otherwise just being completely adorable.
And then there are all the cute moments meeting kids: whether it be hugs, high-fives, impromptu beard-stroking, or accessorizing with handmade macaroni necklaces, according to Harper's Bazaar, the Sussexes have definitely proved they are one seriously kid-friendly couple.
As much as being comfortable around children seems to be a built-in requirement for modern royals though, Megan and Harry's affectionate nature does seem a bit surprising given the royals' tendency to appear more reserved in public. With a few exceptions, Prince William and Kate Middleton have mostly refrained from holding hands or kissing in public, and according to The Sun, that's in part because "public displays of affection are considered uncouth" in royal circles.
At the same time, Meghan and Harry do appear to be rubbing off on the Cambridges a bit (William and Kate looked quite lovey-dovey at Princess Eugenie's recent wedding, for example), though they weren't quite as open when it came to disclosing details of their three pregnancies. Perhaps the closest Prince William came to Prince Harry's remark during Kate's pregnancy with Prince Louis, for example, was when he commented that it was "very good news," according to E! News.
Of course, as the eventual heir to the British throne, Prince William has always had to shoulder a bit more expectation than his younger brother (let's not forget Prince Harry's infamous party stage in his teens and 20s!), and it's not entirely surprising that he hasn't been quite as open about his personal life.
But hearing Prince Harry's cute nickname for his growing baby — and seeing how excited he appears to be about impending fatherhood — just makes it that much more exciting to imagine how sweet he and Meghan will likely be as parents when their child finally arrives.