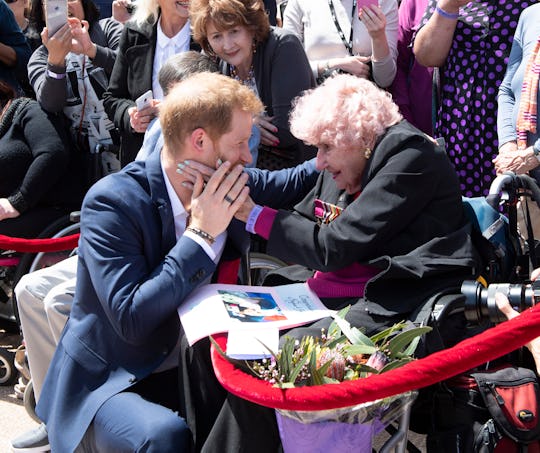 Pool/Getty Images Entertainment/Getty Images
The Moment Meghan Markle Got To Meet Prince Harry's Biggest Fan Will 100% Melt Your Heart
Prince Harry and Meghan Markle — also known as the Duke and Duchess of Sussex — are currently touring Australia. It's their first royal tour as newlyweds, and the trip is already shaping up to be about as sweet as it sounds. As part of the trip, Prince Harry and Markle visited the Sydney Opera House, and while they were there, Prince Harry introduced Meghan Markle to his biggest fan. She's a 98-year-old war widow named Daphne Dunne, according to The Daily Mirror, and seems to truly adore the Duke of Sussex.
As Prince Harry and Markle visited thousands of well-wishers outside of the opera house, Prince Harry reportedly spotted Dunne and made his way over to her. He knew her when he saw her, because apparently, Prince Harry and Dunne have actually met twice before, according to CBS News.
They first met during his 2015 trip to Sydney, after Prince Harry noticed a Victoria Cross medal around Dunne's neck that was awarded to her first husband, Albert Crowne, after he died in 1945 during World War II. Prince Harry reportedly approached her to sign the medal for her. The second visit occurred last year, during the launch of the Invictus Games Sydney 2018.
Both previous times, Prince Harry stopped to take part in "lengthy chats with her," according to The Daily Mirror. But this time was particularly special, because this time, Prince Harry had his new wife with him.
Dunne gave Prince Harry a warm hug when he came over, according to the Associated Press. The Daily Mirror reported that Prince Harry told her, "I was looking for you earlier and hoped you'd be here, it's so good to see you again." He reportedly looked around for Markle to introduce her as well, and the Duchess of Sussex eventually approached.
When Prince Harry went to introduce Markle to Dunne, Markle said, "Oh my goodness, is this Daphne?" according to the Associated Press, suggesting that Prince Harry has spoken to his wife about his "biggest fan" before. Then, Markle was lucky enough to get a hug from Dunne too.
Dunne told the Associated Press that during their chat, she "wished them well with the baby on the way and said this is what Harry has been waiting for so long." After meeting with the couple, she also told reporters that they were "Beautiful, absolutely. They were lovely," as CBS News reported.
Before the royal couple left Dunne to continue greeting others outside of the opera house, Markle reportedly told Dunne, "Hopefully next time we'll have our little one with us."
Kensington Palace announced on Twitter on Monday, Oct. 15 that Markle and Prince Harry are expecting their first child together, and if they make their way to Sydney in the next few years, there's indeed a very good chance that Dunne could meet the newest royal baby. Prince Harry does seem to make a habit of seeking her out, and likely wouldn't pass up the opportunity to introduce his child to Dunne.
During their trip to Australia, the royal couple also met koalas at the Taronga Zoo in Sydney, according to TIME. Specifically, they were introduced to a set of joeys named Harry and Meghan, as TIME reported — in case you were wondering if this trip could possibly get any cuter.
Plus, the Governor-General of Australia, Peter Cosgrove, and his wife Lady Cosgrove gave Prince Harry and Markle their first baby gifts during their visit to Admiralty House, Australian outlet Now To Love reported. They received a stuffed kangaroo, a pair of Akubra hats, and a pair of baby Ugg boots.
Between getting to see Dunne again and the congratulations they've received on their new baby while in Australia, this is definitely not a visit Prince Harry and Markle are going to forget anytime soon.