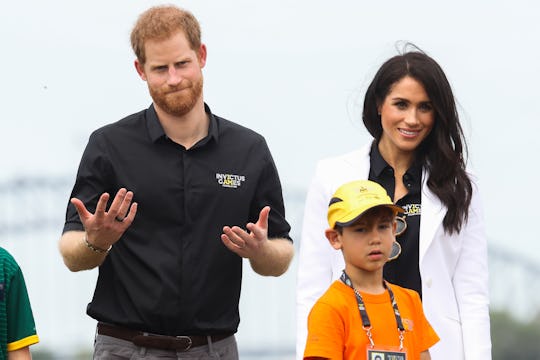 Chris Jackson/Getty Images Entertainment/Getty Images
Prince Harry Just Casually Said If He'd Rather Have A Baby Boy Or Girl
Because of their royal status, Prince Harry and Meghan Markle, Duke and Duchess of Sussex have to share so many details of Meghan's pregnancy with the public. So it would only make sense that they choose to keep the sex of their future child a secret until the birth, should they even find it out. But that doesn't mean the couple isn't crossing their fingers in a certain direction. While on a royal tour of Australia this week, Prince Harry casually let slip whether he wants the baby to be a boy or girl, and fans are going wild over his admission.
While on a royal tour of Australia this week for the Invictus Games, fans captured a video of Prince Harry hurrying down a street and greeting well-wishers. "Harry! I hope it's a girl!" a fan shouted to Harry, as seen in a video that a Meghan and Harry fan page shared to Instagram. "Sorry?" he said, as he rushed past. "I hope it's a girl!" they repeated. "So do I," Harry replied, without hesitating.
Even though Prince Harry and Meghan don't have much say in the sex of their baby, it's pretty dang cute that he may be hoping for a girl. Harry always speaks so fondly of his niece and nephews (Prince Charlotte, Prince George, and Prince Louis), and it seems like he might be keen on making another little girl to be besties with Charlotte.
Not only are fans of the royal family excited to hear that Harry is hoping for a girl, but ever since Meghan's pregnancy was announced last week, people have been placing bets on what the couple will name their baby. It's common for royals to give babies traditional names that have been in the family for generations, and according to Town & Country, bookies are already predicting that the Duke and Duchess will follow suit. For example, Ladbrokes Online Betting's top predictions for baby names are Victoria and Albert, Town & Country noted.
Not to mention, while traveling in Melbourne last week, Prince Harry met a woman named Jessica Bonaddido and her baby girl, Harriet. He remarked that Harriet was a "great name," the mother told Express. Who knows, maybe Harriet will start making its way up the bookies' short lists.
The Duke and Duchess announced Meghan's pregnancy via Kensington Palace's social media pages last Monday. "Their Royal Highnesses The Duke and Duchess of Sussex are very pleased to announce that The Duchess of Sussex is expecting a baby in the spring of 2019," the post read on Twitter. Other than some general excitement about the pregnancy, the couple hasn't revealed too many feelings about the exciting news, so it's pretty cool to hear that Harry has been thinking about whether he wants a boy or a girl.
That said, I have no doubt that Meghan and Harry will be happy to welcome a baby of any sex, given that they have both expressed their desires to start a family on multiple occasions. For example, in their first joint interview, which was right after their November 2017 engagement, the couple made it clear that they want kids. "Of course. You know, I think, one step at a time," Harry said, when asked if they planned to have kids. "And hopefully we'll start a family in the near future."
That dream has come true pretty fast for the royal couple, and it's so exciting to witness their joy around starting a family.