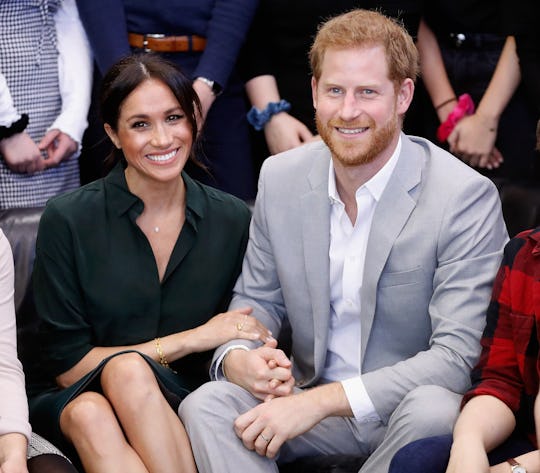 Chris Jackson/Getty Images Entertainment/Getty Images
Prince Harry Kissed A Fan On The Hand, Confirming That He Is, Indeed, Prince Charming — VIDEO
Oh that Prince Harry really is quite a scamp, isn't he? I mean, that's what I've always assumed at any rate. Unlike his brother Prince William and his father Prince Charles, young Prince Harry has often struck fans as being more light-hearted. More playful. Would it be rude of me to say he's pretty good at the schmoozing? Because he's just really great at the art of schmoozing, I think. Those social functions of the royals don't appear to bother him one whit, as evidenced by this adorable video of Prince Harry kissing a fan on the hand. A fan who will probably never wash her hand again after she was finished swooning with delight.
Fortunately for Prince Harry, he appears to have found a wife who totally adores his charming ways (I write as though a literal Prince Charming would be such a bitter pill to swallow). The Duke and Duchess of Sussex were on a walking tour of the town of Brighton on Thursday, according to the Daily Mail, which is fittingly in the Sussex region.
The two were doing their usual royal thing: walking down the street waving to throngs of fans who adore them, when an older woman named Lydia, according to Cosmopolitan, caught the eye of Meghan Markle. Lydia said to Markle, as you can see in the video, that she was "so beautiful" and that's when Prince Harry swooped in to kiss her on the hand.
Not his blushing bride, but Lydia.
A bystander who caught the adorable moment on video told the Daily Mail:
They were actually on the opposite side [of the street] and heard people shouting their names out on our side. Meghan made a beeline for this lady, she was elderly in her eighties. Meghan asked her for her name and where she came from. Then Harry came over and Meghan introduced the lady to Harry. The lady was so excited and she said she felt so lucky that Harry had kissed her hand.
Lydia's reaction was incredibly sweet. She can be heard in the video saying "Oh, thank you!" and giggling. Because... well, a prince kissed her hand. And one of the charming ones at that. What else is a girl supposed to do?
According to the Daily Mail, it's not exactly royal protocol to go around smooching fans, but Prince Harry doesn't seem to be too fussed about it. On the contrary, this isn't even the first time he's done it.
Back in 2015, Prince Harry was greeted in Sydney, Australia by throngs of fans and 21-year-old Victoria McRae holding up a "Marry Me, Prince Harry" sign. He answered, "Can I think about it?" with a smile, then impulsively kissed her on the cheek as the crowd cheered. We all know it didn't work out for young Victoria and Prince Harry, but full marks for trying.
This is what everyone loves about Prince Harry. He seems to really love engaging with people on these royal visits. Not in a forced way, with stiff handshakes and awkward smiles. But with a kiss on the hand for a woman who told his wife she was beautiful.
It's alright to swoon now.