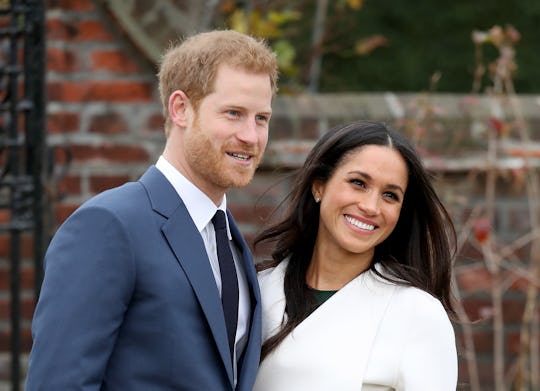 Chris Jackson/Getty Images Entertainment/Getty Images
Prince Harry & Meghan Markle's Official Bridal Party Will Overwhelm You With Cuteness
If you're a pal of Meghan Markle's, then you may have been spending the past six months secretly hoping she'd ask you to be a bridesmaid in her highly-anticipated wedding to Prince Harry this Saturday (maybe even the maid of honor if you were really lucky?). But on Wednesday, Prince Harry and Meghan Markle announced their bridal party members, according to People, and like Prince William and Kate Middleton before them, the couple actually chose children instead of their BFFs.
Kensington Palace shared the news in an official statement, and confirmed that the soon-to-be royal newlyweds will have six young bridesmaids and four page boys walking down the aisle at St. George's Chapel. Leading the charge? Prince Harry's niece and nephew, Princess Charlotte and Prince George, who at this point will probably be able to teach the rest of the kids a few things about how to fulfil their bridal party duties. After all, in addition to being actual royalty whose existence has been headline news literally since the day they were born, Charlotte and George both walked down the aisle at Pippa Middleton's 2017 wedding to James Matthews, according to Vanity Fair, so they're practically old pros at this point. And while having 10 little ones at the year's most-anticipated (televised!) wedding seems like a hugely stressful decision, if all goes according to plan, it will at least end up being majorly adorable.
So who are the remaining eight who have been chosen for the big day? It looks as though they're the children of the couple's closest friends. According to Kensington Palace, 3-year-old Princess Charlotte will be joined by 3-year-old Florence Van Cutsem, Prince Harry's goddaughter (Florence's parents are Prince Harry's friends Alice van Cutsem and Major Nicholas van Cutsem, and her cousin, Grace Van Cutsem, was actually a bridesmaid at her godfather Prince William's wedding in 2011, according to People). Three of the daughters of Markle's friends have also made the cut — Markle's 6 and 7-year-old goddaughters, Remi and Rylan Litt, and 4-year-old Ivy Mulroney, daughter of Markle's stylist and friend Jessica Mulroney — while another of the prince's goddaughters, Zalie Warren, will be the youngest of the group, at only 2 years old.
As for the boys? Prince Harry's 6-year-old godson, Jasper Dyer, will join Prince George in his page boy duties, as will Jessica Mulroney's 7-year-old twins, John and Brian Mulroney.
Honestly, the decision to have 10 young children at a wedding that will be watched by millions of people seems pretty baffling (my own children were in two different weddings before they turned five, and it was super anxiety-inducing), it is certainly in keeping with royal tradition. While the idea of having a bridal party full of kids might seem a bit odd to American brides, it's actually much less common for British brides in general to have adult bridesmaids, according to Vogue. And it's certainly uncommon for royal brides: Kate had four young bridesmaids at her wedding, ranging in age from 3 to 8 years old, according to ABC News, while Princess Diana had five bridesmaids between the ages of 5 and 13, according to The Telegraph.
Both royal brides did at least decide to have one adult in the mix on their wedding day, though: Kate famously had her sister, Pippa, help her out as maid of honor, while Princess Diana had Princess Margaret's daughter, Lady Sarah Armstrong-Jones, standing up for her, according to The Telegraph, but Markle has decided against choosing anyone for the role, according to Harper's Bazaar. In fact, given that her father, Thomas Markle, has recently announced he will not actually be attending his daughter's wedding, for now it looks as though she may be walking down the aisle entirely solo (unless, of course, her mother, Doria Ragland, steps in to accompany her).
Planning a wedding in general is tough, but when you're planning a royal wedding that will be broadcast on television all around the world? The pressure has to be unreal. And though there are surely many individuals involved to make sure things run smoothly, the reality is that having a 10-kid bridal party is still a pretty big risk — especially if you don't have a maid of honor there to help corral the youngsters.
At the same time, though, let's be honest: all eyes will be on Prince Harry and Markle. And if one of the children does get stage fright, or if there is a middle-of-the-aisle meltdown, it will actually just probably end up being a really cute (and super relatable) moment. As for the children themselves? It will surely be a once-in-a-lifetime experience most of them will remember for the rest of their lives.