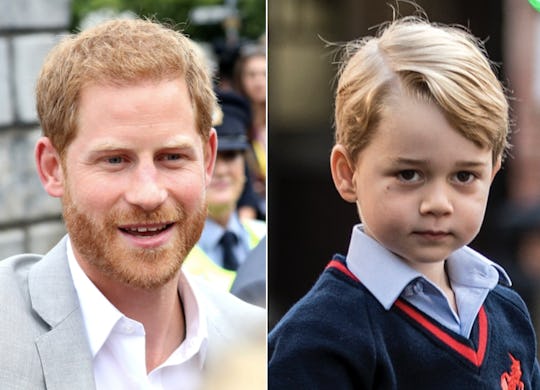 Chris Jackson/Getty Images Entertainment/Getty Images/ WPA Pool/Getty Images Entertainment/Getty Images
Turns Out Prince Harry Loves The Same Disney Movie As His Nephew Prince George
If you're anything like me, every once in awhile you might like to enjoy a nice little fantasy about what life at Kensington Palace looks like. Not the pomp and circumstance and all of that, but just the day-to-day goings on. Like I want to believe that Kate Middleton and Meghan Markle have started a morning yoga routine together, and that movie nights with the kids are a thing. So when I see news that sort of hints that this might be true, like the fact that Prince Harry and Prince George love the same Disney movie, I feel oddly validated.
Prince Harry and his wife Meghan Markle spent time at the WellChild awards, one of the prince's patron charities that works to support home care gravely ill children and their caregivers. Prince Harry has been involved in WellChild since 2007, and this year was the first time that both he and Markle attended together. The two seemed to truly enjoy meeting the young children and their caregivers, with Prince Harry especially doling out hugs and getting into long, involved chats with the kids.
But when one exceptional child, 10-year-old Chloe Henderson, had her chance to speak with the royal couple, she had one question on her mind. And it wasn't about the wedding or the crown jewels or anything as pedantic as all that.
It was all about Disney.
Chloe said to the couple, according to People, "Here's a question for you. What's your favorite Disney movie?"
Honestly, this is the sort of question I would definitely ask as a hard-nosed journalist myself. Also what they like on their pizza, since that says everything you ever need to know about a person, but I'll take the Disney movie response for now.
So here you go, guys. Meghan Markle apparently likes The Little Mermaid best. You know, the story of a beautiful red-haired mermaid who becomes a princess? I want to make some parallels here, but let's face it; all princess movies would have parallels to Markle's new life. But Ariel has red hair and so does Prince Harry so that's something, right?
As for Prince Harry, according to People, he told Chloe that he really likes The Lion King. And there's your evidence that movie nights happen between the Duke and Duchess of Sussex and the Cambridge family for sure (OK, most likely...). Because guess who else loves The Lion King, other than everyone who has ever seen it? Prince George.
Last October his dad, Prince William, told reporters that his son "quite likes" The Lion King, according to Entertainment Tonight.
Now watch young Simba sing "I Just Can't Wait To Be King" and make whatever conclusions you choose. Because he's obviously Simba minus the warthog and meerkat pals, which is sort of sad.
So now paint this picture in your mind: 5-year-old Prince George and 3-year-old Princess Charlotte enjoying a big bowl of popcorn with their Uncle Harry watching The Lion King on the couch. Hopefully not paying too close attention to the relationship between Scar and Mufasa, Simba's villainous uncle and the king he plots against. It's just a movie, guys. Eat your popcorn.
It's these little glimpses into the lives of the royals that make people happiest, in my opinion, and it sort of feels like a win-win. They don't have to share too much private information about themselves, which is probably preferable, but people get to feel like they sort of know them.
Now if we could just find out if Kate Middleton and Meghan Markle are doing yoga on the palace grounds or having a weekly cocktail night together, my life would be complete.