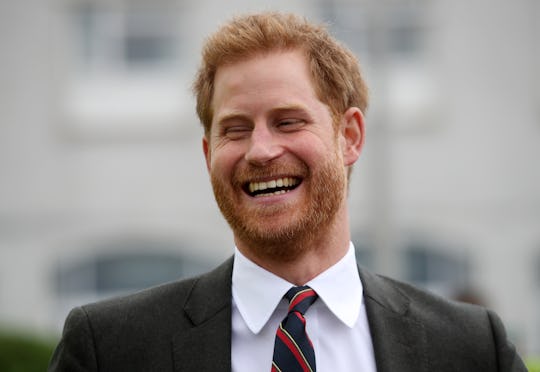 Chris Jackson/Getty Images Entertainment/Getty Images
Prince Harry Got Caught On Camera Stealing A Samosa & His Reaction Is Priceless
Prince Harry is absolutely the most relatable of the royals, in my opinion. Even compared to his wife Meghan Markle; not to say I don't adore her, of course. But as she's a new member of the British royal family I think she's still trying to find her footing. Prince Harry, however, has been royal since birth and doesn't seem terribly concerned about the whole thing. Take this video of Prince Harry stealing a samosa at Meghan Markle's cookbook party, for instance. Sure, he might be a royal who can probably get his hands on whatever food he chooses. But sometimes snacks stolen to take home just taste better. And he totally gets it.
Let me set the scene for you. Meghan Markle brought her mom and husband to celebrate the launch of a cookbook she has been collaborating on with other women for the past nine months called Together: Our Community Cookbook. The party was a picnic lunch on the grounds of Kensington Palace and looked to be that perfect blend of casual and posh which I think might become Markle's signature style. As for Prince Harry's signature style; think open neck shirt under a jacket, smiling and having a good time while he sneaks a samosa to take home with him from the picnic. And even when he got caught on camera by ITV, he just thought it was funny.
So here's how I feel about this adorable moment; first, I love that a royal prince, a man whose grandmother is the Queen of England and whose father will one day be King, feels like he has to sneak a snack from the goody table. Second, I can only assume those samosas are damn delicious. Enough so that the Duke of Sussex couldn't stop himself from sneaking away from the party to grab one for home. And this says a whole lot about this amazing cookbook, don't you think?
Together: Our Community Cookbook is special for several reasons, in fact. It seems that Meghan Markle has been working with women who were affected by the Grenfell fire tragedy in their community kitchen for months and was instrumental in keeping this kitchen alive by suggesting the women create a cookbook. They share their 50 favorite recipes, and the cookbook includes a foreword by the Duchess of Sussex herself. This was Markle's first solo foray into the world of royal charity work, and she clearly adored it.
At the picnic book launch on Thursday, Markle gave a moving speech about what this cookbook has meant not just to the women who share their community kitchen, but also to her, according to Cosmo:
Working on this project for the past nine months has been a tremendous labor of love. I had just recently moved to London and felt so immediately embraced by the women in the kitchen with your warmth, and your kindness. And also to be able to be in this city and to see, in this one small room, how multicultural it was. On a personal level I feel so proud to live in a city that can have so much diversity.
This cookbook sounds amazing, and I'm so glad Markle got the opportunity to hang out and cook with a bunch of amazing women. Otherwise Prince Harry wouldn't have had any samosas to steal and that, my friends, would be a real tragedy.