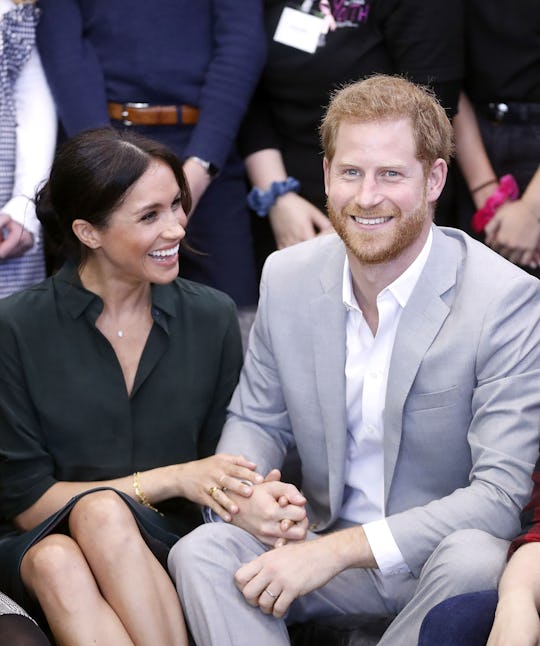 Chris Jackson/Getty Images Entertainment/Getty Images
This Video Of Prince Harry Gushing Over His "Upcoming Baby" With Meghan Markle Is Too Sweet
If you thought you couldn't possibly love Prince Harry any more than you already do, think again. This video of Prince Harry talking about his "upcoming baby" with Meghan Markle is so sweet, it'll rot your teeth. The dad-to-be seems a little nervous in the video, but I have no doubt that he will embrace fatherhood with every fiber of his being. He has spoken out about having kids numerous times throughout the years and it looks like he found the perfect partner to grow his family with.
During the couple's royal tour of Australia, Prince Harry spoke at a reception in Sydney about his and his wife's coming addition. After thanking the people of Australia for their "incredibly warm welcome," and the "chance to meet Aussies from all walks of life," he told the crowd that he and Markle couldn't imagine a "better place" to open up about their growing family. "We also genuinely couldn't think of a better place to announce the, er, upcoming baby, whether it's a boy or a girl," Prince Harry said while glancing over at Markle and looking a bit nervous.
Though this is the first time that the expectant father has spoken up about the pregnancy, it is far from the first time Prince Harry has commented on fatherhood in general. Along with being godfather to five or six of his friends' children, according to the Express, he has also expressed his excitement over one day fathering children of his own.
During a 2012 interview with ABC News, Prince Harry explained that he had long wanted to be a father, but he was waiting for the right person to come along before having children. "I've longed for kids since I was very, very young, I'm waiting to find the right person," he said. "Someone who is willing to take on the job." (Meghan, that's your cue!)
In that same interview, Prince Harry said that his mother Princess Diana is likely watching and waiting for more grandchildren:
I hope she's looking down, you know, with tears in her eyes, being incredibly proud of what we've established, I suppose. I'm sure she's longing for me to have kids so she can be a grandmother again. I hope that everything we do privately and officially, that it makes her proud.
Again in 2016, the subject of fatherhood came up during an interview with Us Magazine and while he wasn't quite ready to be a dad then, he said that he "look[s] forward to the time when it comes." This concern over the time being right was echoed in an interview that Prince Harry did with People that same year:
There have been moments through life, especially when we do a tour abroad, when I think, "I'd love to have kids now." And then there are other times when I bury my head in the sand going, "All right, don't need kids!" There's no rush. I tell you what: There's been times I've been put off having children.
Two years later, it looks like the time and the lady are the right fit to bring children into the picture. Kensington Palace released an official statement Monday morning announcing Markle's pregnancy to the world. That announcement revealed that she is due in the spring and People reported that she recently had her 12-week pregnancy appointment and ultrasound and all is well with mother and baby. The palace's statement also thanked the public for their support of the coming royal baby:
Their Royal Highnesses have appreciated all of the support they have received from people around the world since their wedding in May and are delighted to be able to share this happy news with the public.
Given the overwhelming response to the news of a coming royal baby, Prince Harry will have plenty more opportunities to open up about how he is feeling about fatherhood. Here's hoping that the coming interviews provide a few more details on what may be the most highly anticipated baby of 2019.