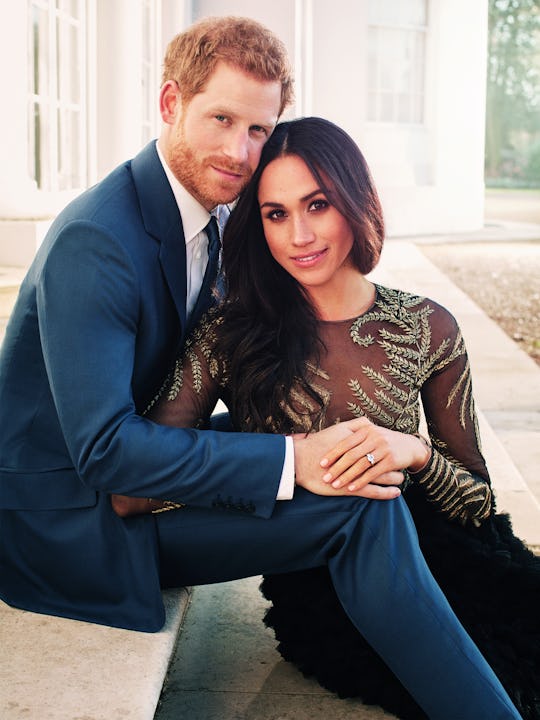 Handout/Getty Images Entertainment/Getty Images
Prince Harry's Quotes About Wanting Kids Prove He's *So* Ready To Be A Dad
If there's one thing I'm more excited about than the day Prince Harry marries American actress Meghan Markle next May, it's the day he becomes a father. If you need to ask why, you definitely haven't seen that viral video of him and a toddler who keeps eating his popcorn. Pause for a moment to go watch that, and then come back to read these Prince Harry quotes about wanting kids. I mean, I don't want to rush them or anything but let's face it; Prince Harry is ready to move on from fun uncle status and take a turn in the big leagues.
Long before Prince Harry was whisking his future bride off to the French Riviera for a romantic getaway to ring in the new year, long before he even met her, in fact, he was thinking about having children. He has always been a doting uncle to his brother's children, 4-year-old Prince George and 2-year-old Princess Charlotte (and presumably a doting uncle to the newest addition; Kate Middleton is expecting a third child with husband, Prince William). In a June interview with Mail On Sunday, Prince Harry opened up about being fifth in line for the throne now that his niece and nephew were born:
The reason I am now fifth is because of my nephew and niece and I could never wish them away. They are the most amazing things ever.
Hold on while I clutch my overflowing heart and drop to the floor.
Longing For Kids
Prince Harry lost his own mother, the late Princess Diana Spencer, in a horrific car crash at the young age of 12. In the 20 years since, the young prince has made his desire for his own family perfectly clear. In 2012 he told ABC News:
I've longed for kids since I was very, very young. I'm waiting to find the right person. Someone who is willing to take on the job.
It seems he has certainly found someone willing to take the job; in 2016, according to Life & Style, Markle had this to say about raising a family:
I also dream to have a family. It's all about balance, and I have so much happiness in my career and am fortunate to travel the world and see so many amazing things — it will also be nice to be anchored to something grounded and in the same place. Raising a family will be a wonderful part of that.
Just A Normal Guy
While Prince Harry and Prince William might have been raised as royals, their mother was also reportedly determined to see them live something of a "normal" life. And, as Prince Harry told Mail On Sunday, this is something he plans to continue with his own children:
I am determined to have a relatively normal life and if I am lucky enough to have children they can have one too. We don't want to be just a bunch of celebrities but instead use our role for good.
Prince Harry also told ABC News in 2012 that he believes his mother is watching him and wants to see him with children:
I hope she's looking down, you know, with tears in her eyes, being incredibly proud of what we've established, I suppose. I'm sure she's longing for me to have kids so she can be a grandmother again.
Not Far Off In The Future
When Prince Harry and Suits actress Markle sat down to chat with the BBC in November after getting engaged, naturally the question of children came up. And Prince Harry was happy to answer the question rather than evade:
But I think eventually one step at a time and we'll start a family in the near future.
One thing is clear; Markle and Prince Harry are ready to get married. And not only are they ready to have babies, but Prince Harry seems to have been ready for a long time. Because being a fun uncle isn't the only thing he's got going on.
Check out Romper's new video series, Romper's Doula Diaries:
Watch full episodes of Romper's Doula Diaries on Facebook Watch.