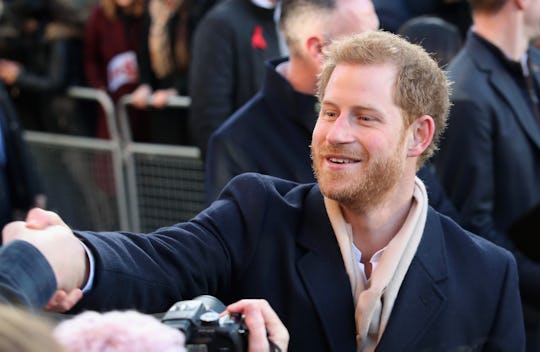 Chris Jackson/Getty Images Entertainment/Getty Images
Prince Harry's Instagram Shows Exactly Where His Royal Priorities Lie, & It's Inspiring
Unlike his brother, Prince William, Prince Harry hasn't faced the same pressure of being next in line for the British throne after their father, Prince Charles, and as a result, it's meant that he's had a bit more freedom to chart his own course. Although many members of the royal family are actively involved in philanthropic efforts, Prince Harry has long been a champion for the important causes he believes in — a trait he actually shares with his future wife, Meghan Markle. Together, the couple says they plan on committing themselves even further to charity work, and while they haven't yet specified what that could mean, Prince Harry's Instagram gives a glimpse into some of the things that matter most to him.
After 10 years spent serving in the British Armed Forces, Prince Harry announced in 2015 that he would be leaving the military to focus on his royal duties, according to Clarence House — which for him has primarily meant pouring his energy into the variety of charities that he's supported over the years. In their first interview together Monday, Prince Harry and Markle — who has worked as a United Nations ambassador, and has visited Rwanda and India on humanitarian missions, according to People — spoke about their joint "passions for wanting to make change for good" in the world.
In the interview, Markle revealed that their interest in charity work "was one of the first things [they] started talking about when [they] met," and so far, they've wasted no time proving it. According to BBC News, Markle joined Prince Harry for her first-ever royal walkabout in Nottingham Friday, during which the couple visited a World Aids Day charity fair, as well as a local school, where they met with teachers and staff from Full Effect, a program established by Prince Harry that helps to combat youth violence.
Once they marry, Markle is expected to become a patron of the Royal Foundation, a charitable organization led by Prince Harry, Prince William, and Catherine, the Duchess of Cambridge, and together, they'll likely push forward to advance various causes. Here's what we know about Prince Harry and his charity work — at least, according to Instagram.
He Is Super Involved In The Invictus Games
In 2014, Prince Harry helped to create the Invictus Games, an international accessible sporting event for wounded or injured military veterans. It's been one of the prince's more high-profile efforts, and it's also been a significant one for him and Markle — they made their public debut as a couple at the Invictus Games in Toronto in September. During the event, Prince Harry told reporters "the sky's the limit" when it comes to the Invictus Games, according to The Telegraph, and that he had "a social responsibility to continue this for a long as it's needed."
His Military Background Inspires Much Of His Work
Prince Harry may no longer be in the military, but judging by his Instagram, he is involved with many events and charities related to veterans and military service. In November, Prince Harry appeared in uniform to meet veterans on Remembrance Day, and he also represented the Queen at a military ceremony in July.
He Cares About Mental Health
Along with the Duke and Duchess of Cambridge, Prince Harry has helped advocate for mental health awareness through their charity, Heads Together, an initiative that "combines a campaign to tackle stigma and change the conversation on mental health with fundraising for a series of innovative new mental health services." Earlier this year, the three royals shared a video on Instagram in which they discussed mental health, and Prince Harry spoke about the impact his mother's death had on him, and the importance of opening up and getting help.
He's Besties With Michelle Obama
It's one thing to have the former first lady show up for a surprise visit at your high school, but when she happens to also show up with Prince Harry by her side? It's almost too much. In October, the two visited Chicago's Hyde Park Academy, which is located across from the future site of the Obama Presidential Center, and spoke about "the importance of young people staying inspired and hopeful, and the transformative power of students using their voices to change the world."
He's Great With Kids
He might not yet have any children of his own (he and Markle said they hope to start a family "in the near future"), but it looks pretty safe to say that when he does, he'll be a natural. Prince Harry is involved with a number of charities and events that help children, and he seems to have no problem totally winning them over.
Prince Harry might be making headlines for his engagement to Markle, but judging by his social media accounts, there's much more to the charming prince than just being one part of a famous couple. Being born into the royal family may have given Prince Harry an unimaginable amount of privilege, but it seems pretty clear that he works to put it to good use as much as possible. And now that he's set to marry someone who seems just as interested in changing the world as he is? It will be exciting to see what they choose to do together.
Check out Romper's new video series, Romper's Doula Diaries:
Watch full episodes of Romper's Doula Diaries on Facebook Watch.