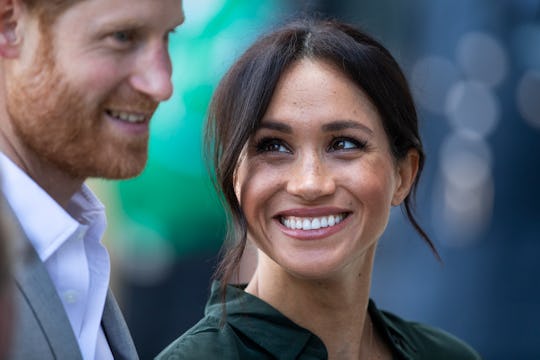 Dan Kitwood/Getty Images Entertainment/Getty Images
Prince Harry & Meghan Markle's Baby Picture Tease The Next Royal Baby's Looks
Forget about the question of gender for a moment. With confirmation of a new royal baby arriving in spring, what I really want to know is, what will the actual baby look like? Prince Harry's and Meghan Markle's baby photos might just predict how cute their kids will be (which, on a scale from cute to very, very cute, could be at the top end).
On the surface, Prince Harry and Meghan, now the Duke and Duchess of Sussex, noted Town & Country, didn't have similar childhoods. One was raised in an English Palace, one in middle-class Los Angeles, Calif. But looking a bit closer, they actually shared a couple key childhood things, and that was a doting mum and a divorce in the family, as Marie Claire magazine explained. Princess Diana was determined to break the monarchy's tradition of not expressing emotion, and having kids being seen and not heard, as CNN has explained, and she cuddled her little ones, William and Harry, openly.
Meanwhile, Markle was raised by parents Thomas Markle, Sr. (from whom she is now estranged, ) and mom Doria Ragland, who has a super-tight relationship with her daughter and Harry, according to the U.K's Express newspaper. As a result, there are lots of fun mum-kid photos of Harry and Meghan with their respective parents to compare pics.
The couple, currently in Australia, are said to be traveling with Meghan's best friend, fashion stylist Jessica Mulroney, and have also given their first direct comments about being in the family way.
"This is my wife's first visit here so I'm very excited to show her this wonderful country of yours," Prince Harry told a crowd, according to website CommentWise. "And we also genuinely couldn't think of a better place to announce the upcoming baby, whether it's a boy or a girl, so thank you very, very much."
Although it's clear that both Harry and Meghan were cuties as tots, experts say traits such as eye and hair color could vary in their offspring, at least according to London's Daily Mail. The paper quoted an American forensics expert with experience as a police sketch artist as saying that a Windsor boy could have blue eyes and brown hair, while a girl could have brown eyes and black eyes.
While only time will tell exactly how the baby will look, it's hard to imagine the tyke won't be both as attractive and social as his or her parents. Harry and Meghan both have dazzling smiles, and a seemingly genuine way of connecting with people, so we can probably already check those two boxes off, just based on genetics alone. The child may also end up with artistic or dramatic talent from mom (The Hollywood Reporter had the details) and a hand for gadgets and flying helicopters from dad, (as Esquire explained) but that's down the road, people.
Also, breaking news from Entertainment Tonight: Grandma-to-be Doria Ragland is looking at property in the U.K. so she can spend at least half a year there, helping Meghan out. That's exactly what the new mom will need: a little help from home. The UK's Express newspaper added that Ragland has been seen taking baby-care classes.
So between a huge support system of friends and family, a true love connection, and some excellent genetics, I'm just not worried about either how Harry and Meghan will adjust to parenthood, or how absurdly cute their bundle of joy will be. It's all good.