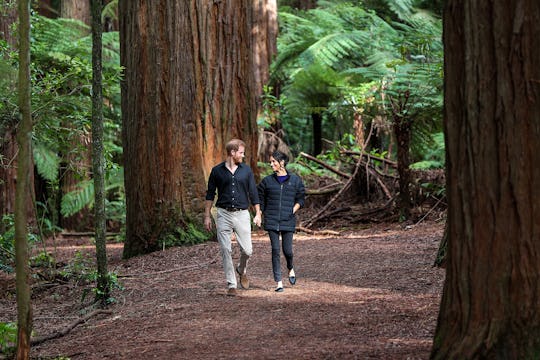 Pool/Getty Images Entertainment/Getty Images
Prince Harry Captured The Sweetest Photo Of Meghan Markle Cradling Her Bump
Prince Harry: the Duke of Sussex, dad-to-be, and... Instagram husband? It might be surprising, but this does seem to be the case. (It's also further proof that every good partner understands being someone's life companion comes with the responsibility of providing them with great Insta content, but that's an argument for another day.) Because right now, Prince Harry's photo of Meghan Markle cradling her bump is almost to sweet to handle.
On Thursday, Kensington Palace shared a photo of Markle standing amid tall redwood trees, sporting athleisure, and smiling contently as she cradles her pregnancy bump and the sun streams through the leaves. Yes, it is precisely as idyllic as it sounds.
Apparently, it's a photo that Prince Harry shot while the two were finishing up their tour down under. The palace added a note from the Duke and Duchess: "Thank you New Zealand for the most wonderful last week of our tour. It has been a privilege to meet so many friendly Kiwis. Australia, Fiji, Tonga and NZ... we leave feeling inspired and reminded of how every single one of us can make a difference," the caption read.
They also added a quote by Kate Sheppard ("The rain that refreshes the parched ground, is made up of single drops") and at the very bottom, a photo credit, attributing the shot to Prince Harry himself.
The couple announced just last month that they were expecting their first child together. On Oct. 15, Kensington Palace shared the happy news with the world for the very first time in a statement on Twitter: "Their Royal Highnesses The Duke and Duchess of Sussex are very pleased to announce that The Duchess of Sussex is expecting a baby in the Spring of 2019."
Of course, those following the couple closely will recall that they are currently on a tour of Australia and surrounding countries, and between that and other royal events — like Princess Eugenie's wedding — Markle did a pretty great job at concealing the news until they were ready to share.
However, a few details slipped through the cracks and made some people speculate as to whether or not they were expecting. For example, Town & Country reported that she didn't remove her coat at Princess Eugenie's wedding.
Others are speculating that her stacking rings are actually symbols for the birthstones of herself, Prince Harry, and the new baby, placing his or her delivery sooner than anticipated, while Cosmopolitan even noted that some believed her decision to wear her hair straight just before the pregnancy announcement was actually a decoy.
It's hard to say definitively what's what (though some of those theories are certainly interesting).
The day after the original pregnancy announcement, Prince Harry confirmed the news and expressed his gratitude while on a press tour. "It's great to be back in Australia, and especially even more so, this is my wife's first trip here, so I'm very excited to show her this incredible country of yours," Prince Harry said, according to Entertainment Tonight. "We also, genuinely, couldn't think of a better place to announce, uh, the upcoming baby, be it a boy or girl, so thank you very much."
Though that certainly doesn't offer much as to whether or not the baby is a boy or a girl, if the couple is keen on sharing, I'm confident that news will come as soon as the time is right.
For now, we can all just sit back, relax, and enjoy Meghan Markle doing pregnancy as stylish as ever. TBH, could you expect any less?