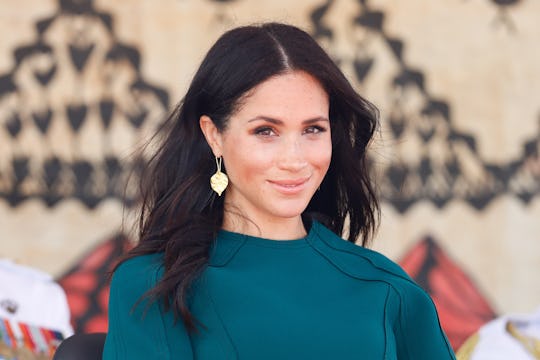 Chris Jackson/Getty Images Entertainment/Getty Images
This Theory About Meghan Markle's Due Date Is Wild, But It *Might* Be Onto Something
There are a few things that everyone knows about Meghan Markle. She's a former actress, a yogi, she had a sort of famous wedding, she loves messy buns and loose waves, and gold stacking rings are her accessory of choice. (Oh, right, and she's the new Duchess of Sussex.) But it's actually that last sartorial detail that has some people convinced Markle is trying to get us to read between the lines, or, ahem, bands. In fact this theory about Meghan Markle's due date with her first child suggests that she might be a bit farther along in her pregnancy than everyone originally thought.
As one of the most watched and documented women alive, Markle's fashion choices are highly scrutinized. Seriously, people pay attention. And HELLO! readers in particular noticed something about the accessories she chose to wear in the wake of her royal baby announcement.
On Thursday, the magazine reported that while attending the Invictus Games — a sporting event Prince Harry founded for wounded, injured or sick armed services personnel and veterans, according to Newsweek — Markle opted for some pretty interesting accessories. Along with her blazer, black jeans, and heels, she wore a series of gold rings on her finger. That's not abnormal, per se, but it's actually the fine details of the ring that some seem to think give an important detail about her pregnancy away.
Markle's rings, which were designed by Canadian jeweler Ecksand, as HELLO! reported, feature three separate bands. On each of them, there's a different stone: a blue sapphire, an emerald, and a diamond.
This is where it gets interesting: as HELLO! reported, some readers on social media were pointing out that Prince Harry's birthday is in September, the birth stone for which is sapphire, Duchess Meghan's birthday is in August, the birth stone for which is peridot or "evening emerald," and if the baby-to-be's birthday is in April, the birth stone would be a diamond. As HELLO! reported, it's possible that Markle's rings could actually be the birth stones of herself, her husband and her baby-to-be, meaning that she could be bit farther along in her pregnancy than originally thought.
On Oct. 15, Kensington Palace confirmed Markle's pregnancy, according to The Sun, which is something many had been speculating for a number of months. In the announcement, the palace only mentioned that the baby was due in the "Spring of 2019," offering no further details about a potential due date.
However, if the rings are what some readers believe them to be, it would indicate Markle is somewhere around four months into pregnancy. It's typical for women to wait until at least their second trimester (three months) to announce pregnancies as the likelihood of a miscarriage greatly reduces by that time, as Fit Pregnancy reported. However, given Markle's status, it wouldn't be surprising if she opted to keep it a secret for just a bit longer.
If the ring theory does turn out to be true, it wouldn't be the first time that Markle or other members of the royal family used an accessory to convey a hidden message.
In fact, in the weeks before Markle announced her pregnancy, Cosmopolitan reported that some people believed her hairstyle was actually a cryptic message. Early in October, Markle sported pin-straight locks — a style she rarely does publicly. The magazine argued that Kate Middleton, her sister-in-law, does something similar: changes her hairstyle right before every pregnancy announcement potentially to create a distraction, or another reason for why her appearance may have changed a bit.
It's impossible to say whether or not that's actually what's going on... but given that the pregnancy rumors did turn out to be true (and now both of the Duchesses have a 4/4 track record of hairstyle changes before announcements), it's certainly going to keep fans and followers on their toes for the next ~*hint*~.