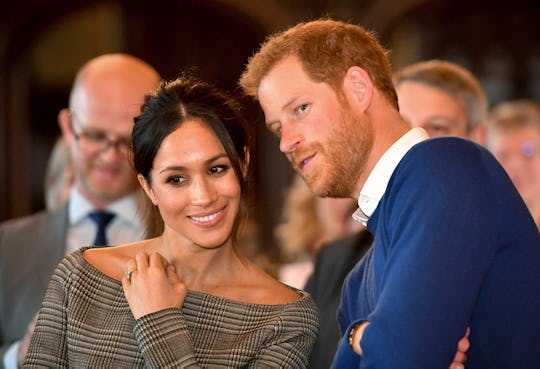 WPA Pool/Getty Images Entertainment/Getty Images
Prince Harry's Quotes About Meghan Markle Will Remind You What True Love Looks Like
When Prince Harry met Meghan Markle, the world changed. As the young prince, who spent most of his 20s and the early part of his 30s as a proud bachelor, once said about knowing the actress was the one for him, "the very first time we met." The youngest son of Prince Charles and the late Princess Diana might have wanted to keep his relationship with the former Suits actress private at first, but now that the two are engaged the vault is open. And he's not above waxing poetic about the woman he loves, as evidenced by Prince Harry's quotes about Meghan Markle. I guess true love is really a thing, and it's marvelous.
Ever since Prince Harry formally announced his engagement to Markle in November, the whole world has been swept up in royal wedding fever. Or more swept up, I suppose, since the whole world was already in deep with Prince Harry's older brother William, his wife Kate Middleton, and their two (soon to be three) adorable little royal children; 4-year-old Prince George and 2-year-old Princess Charlotte. But there's just something about the love story of Prince Harry and Meghan Markle that has taken the world by storm, and I think I've figured out why; everything about their story and the way they talk about each other reads like some beautiful old romantic saga.
Out Of Africa
After Prince Harry and Markle were fixed up by a mutual friend on a blind date, which the prince told the BBC was when he first fell in love with "this beautiful woman just literally tripped and fell into my life," the two met for another date. Then went to Africa to camp under the stars for their third date. Yes, I'm not thinking about my last date, too. No, I'm not depressed. According to Town & Country, Prince Harry told reporters during a photo call at Kensington Gardens:
I managed to persuade her to come and join me in Botswana and we camped out with each other under the stars. Then we were really by ourselves, which was crucial to me to make sure that we had a chance to get to know each other.
Nobody Talks Trash About Baby
When the media and the general public finally figured out the two were dating in November 2016, Prince Harry was horrified by the negative backlash and rushed to her defense with a public statement issued out of Buckingham Palace. Which might be the most romantic thing ever:
Prince Harry is worried about Ms. Markle's safety and is deeply disappointed that he has not been able to protect her. It is not right that a few months into a relationship with him that Ms. Markle should be subjected to such a storm. He knows commentators will say this is 'the price she has to pay' and that 'this is all part of the game'. He strongly disagrees. This is not a game - it is her life and his.
All In The Family
The couple has been spending the majority of their time in Great Britain, and naturally Prince Harry wanted to make sure his family would get along with Markle. And he told the BBC there wasn't a problem at all on that score:
It was exciting! I'd been seeing her for a period of time when I literally didn't tell anybody at all, and then William was longing to meet her, and so was Catherine. They're our neighbors, so we've managed to get that in quite a few times now . . . Catherine's been absolutely amazing, as has William, as well, you know, a fantastic support.
As for what he thinks his late mother, Princess Diana, would have thought of Markle:
They'd be thick as thieves, without question. And she would be over the moon, jumping up and down, so excited for me.
These days, the two are making the rounds of official visits and charming the pants off of everyone they meet. Because that's the thing about people who are genuinely in love; royal or not, they're some of the best people to be around.
Check out Romper's new video series, Romper's Doula Diaries:
Watch full episodes of Romper's Doula Diaries on Facebook Watch.