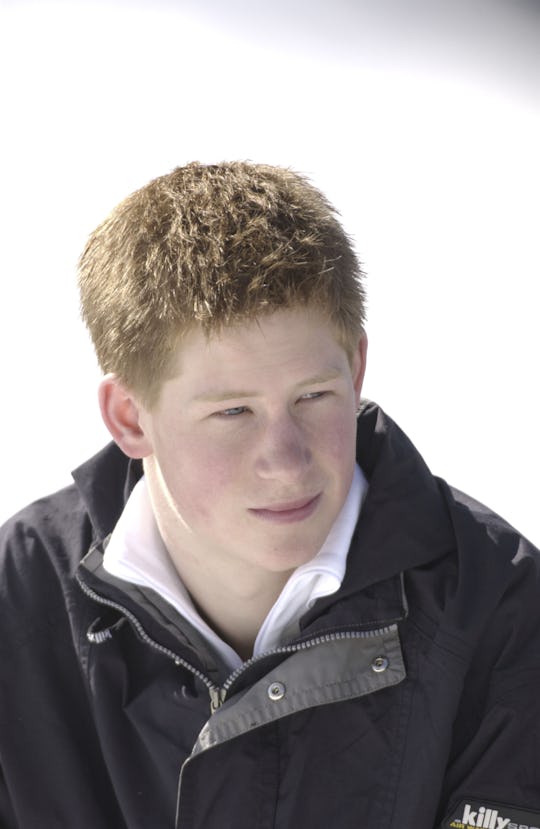 Julian Herbert/Getty Images Entertainment/Getty Images
Prince Harry's School Boy Crush Just Trolled Him On Twitter
You know you have a serious crush on someone when you take the time to buy a poster and actually hang it on your walls. Just think about the time it takes to pick the right poster, find the perfect spot, decide whether to use tacks or those double-sided tape things that never really work even though everyone says they do. When you're a kid in high school, that poster feels like commitment. Not that you want that crush to find out, obviously. Unfortunately when you're a prince, it's bound to happen. And so it was that Prince Harry's school boy crush called him out on Twitter in sort of the cutest way ever.
Let me set the stage for you, shall I? Prince Harry was 18 years old and living most of the year in his dorm room at Eton College, the English boarding school for boys long-favored by the royal family in Eton, Berkshire, which is close to Windsor. Perhaps he's enjoying a little freedom away from the castle, learning a bit more about self-expression and the kind of person he wants to be. Also he gets to decorate pretty much however he wants, from the looks of this throwback pic his crush shared from back in the day.
That's right; a teenage Prince Harry (without a beard, and I totally forgot what an adorable little baby face he used to have) is proudly sitting in front of a huge poster of Halle Berry. Actually, it almost looks like a tapestry of some sort, which is pretty cook. The Catwoman actress shared the picture with a screenshot of her poster with the caption "Ok #PrinceHarry, I see you! #HalleBerryPosta @MissyElliott"
Of course, she is referring to a lyric from Missy Elliott's 2002 hit "Work It," which honestly brings the beautiful trolling to the next level.
I love that Prince Harry was so open about his crush as a teenager that he put her up on his wall, or maybe instructed someone else to put his poster up because he's a prince and maybe doesn't have to do that sort of thing. Also the fact that I am pretty sure he just left his room however he normally keeps it (toothbrushes, stacked up teacups, a bottle of something I'm fairly certain is Axe body spray, other posters of bikini-clad girls) when he knew his picture would be taken is decidedly endearing.
As is his inclusion of a framed black-and-white picture of his late mother, Princess Diana, on his desk. She died six years before the picture was taken, when he was just 12 years old.
While Prince Harry's crush on Halle Berry sadly was all about unrequited love, it's possible that his crush on another beautiful actress came to fruition recently. According to People, a friend of Prince Harry's told royal expert Katie Nicholl that he had a crush on Suits actress Meghan Markle for two years before he met her:
He had a crush on [Markle's character] Rachel Zane two years before he met Meghan and the reason I know is because I was having drinks with one of his friends. She told me she'd been on a night out with Prince Harry. He was single at the time, so she said, 'Harry, who's your ideal girl?' And he said 'Meghan Markle from Suits.'
I think we all know how that crush turned out... it went a little further than a poster.
It's nice to see that Prince Harry was a pretty normal teenager, with a bit of a messy room and celebrity crushes and the like. I think it's what has helped him turn into the nice guy he appears to be today.
Although I'm really glad his celebrity crush on Meghan Markle, now the Duchess of Sussex, panned out for him.